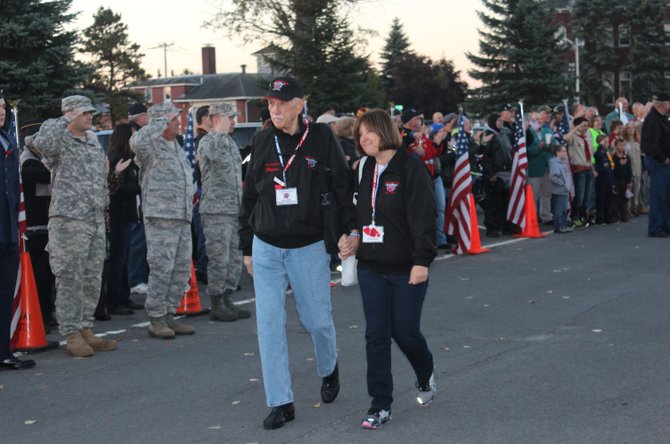 At just past dawn on a crisp Saturday morning, "Reveille" sounded over the parade ground at the old base oval, as a large American flag slowly crept up the flagpole.
As it did, 15 North Country World War II veterans, some bent with age, one standing with the help of a walker, straightened with pride and offered a crisp military salute to the flag. This was the opening volley of the send-off ceremony Oct. 12 for the most recent trip by North Country Honor Flight to the Washington D.C.'s World War II Memorial, Iwo Jima Monument, and the Tomb of the Unknown Soldiers at the Arlington National Cemetery.

On hand to see them off were a throng of family members, veterans representing all of America's major conflicts since their service down to the present, a full police band complete with bagpipes, uniformed police officers from nearly every agency in the North Country, and numerous civilians who just came out for the send-off. A contingent of Boy Scouts and Cub Scouts passed out American flags to the waiting crowd.
After a brief speech by Plattsburgh Mayor Donald Kasprzak, Honor Flight Director Daniel Kaifetz called each veteran individually. They walked the short, flag lined stretch of pavement to the waiting limousine, past the police band and two rows of flag waving family and friends. Many in the crowd saluted as they passed. Once they were boarded, most of the spectators hurried to the Clinton County Airport ahead of the veterans, where another send-off ceremony awaited.
While the parking lot cleared, the ground shook as several dozen motorcycles, part of the escort for the short trip to the airport, roared to life. The long phalanx of bikers, many veterans themselves wearing patches denoting their service, stretched from the oval parking lot well through the traffic circle on U.S. Avenue. Finally the Honor Flight's limousine, followed by a dozen police cars, left the parking lot and headed for the airport, and ultimately Washington D.C.
(Continued on Next Page)
Prev Next
Vote on this Story by clicking on the Icon