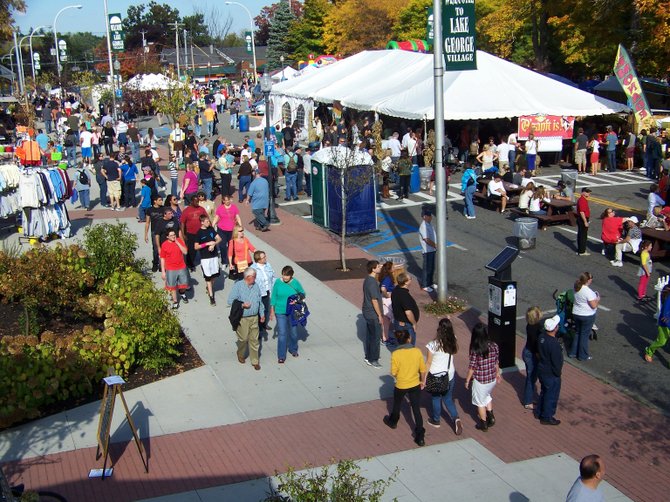 continued — "This has been phenomenal," she remarked.
Carr said this year's Oktoberfest — the third for the village — was particularly good for area commerce because it stretched over three days, and many visitors stayed at area accommodations through the weekend.
The crowd at various times broke into spontaneous dancing to the Bavarian music provided on Saturday by Herb Liebenhagen of Latham and on Sunday by a 12-piece German band. Saturday and Sunday evening, Lake George Mayor Bob Blais ceremoniously tapped a keg, to the delight of hundreds of adults celebrating.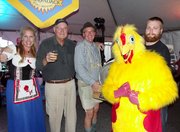 During daytime while the adults were partying, there was plenty for children to do, with a climbing wall, yodeling contest, hula hoop contest, sack races, carnival games, plus horse and pony rides.
Janice Walz of Scotia — dressed in a traditional German dirndl and her husband David, wearing lederhosen, spoke of why they chose to come to Lake George rather than other regional Oktoberfest events held simultaneously in the region.
"This is the way to do it," Janice Walz said, gesturing at the varied activities around her. "And it's strikingly gorgeous here."
She said she and her husband visited Munich three years ago, and the scenery in Lake George reminds them of the German countryside.
"This is the cure for my husband's 'German withdrawal,'" she quipped.
Colleen Seeberger of Clifton Park danced the Reinlander and the polka with the Walz's and their friends. She, too was dressed in traditional German garb. Seeberger agreed that Lake George was ideal for an Oktoberfest celebration.
"Lake George is the jewel of the Adirondacks," she said.
Near the beer tent, Kim and Pam Ladd of Thurman and Warrensburg respectively were signing copies of their new book "Happy Hour in the High Peaks" — as well as selling hats and shirts bearing their logo.
The book describes the ambiance of 46 taverns across the Adirondacks, as it tells of the Ladds' adventure as they visited and evaluated 120 such establishments.
Kim Ladd said she was surprised at the size of the Oktoberfest crowd and pleased with their demeanor.
"I'm impressed with the turnout," she said. "And everyone's so positive — they're really enjoying themselves."
Vote on this Story by clicking on the Icon