LAKE GEORGE — Thousands of visitors as well as area residents enjoyed locally brewed beer, German food and music, craft sales and family activities during Lake George Octoberfest, held Friday Oct. 11 through Sunday Oct. 13 under sunny skies.
With a central downtown stretch of Lake George's main drag blocked off for the event, people socialized while circulating, day or evening, among the vendors, events and activities.
"This is like the Fourth of July," Adirondack Pub & Brewery owner John Carr said Saturday as he and his employees scrambled to serve up hundreds of glasses of the enterprise's craft-brewed beer and ale to the crowd. The line of thirsty visitors stretched 30 yards or more across Canada Street at various times during the weekend.
Large tents in the middle of Canada St. hosted the beer-dispensing operation, a vendor dishing up Bavarian sausage, as well as the audience for festive, authentic German music which inspired plenty of people to dance.
Outside these central tents, craft and food vendors attracted good crowds. A kettle-corn and craft vendor reported at the conclusion of the event— with an air of amazement — that they'd sold 300 pounds of popcorn over the weekend. A nearby lemonade vendor said they had run out of supplies both Saturday and Sunday.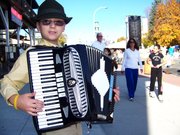 Local stores and eateries, particularly near Shepard Park, were also busy. Saturday, restaurant patios were full at various times. Doug Frost, proprietor of the Tom-Tom Shop and Fire & Ice tavern, said that business was good.
"When good weather combines with a great event, you're going to draw a lot of people," he said.
Pete Trotta, a village employee who was on duty during Oktoberfest, told craft show organizer Gayle Nelson just how busy it was. He said he had talked to various restaurant employees and store merchants, and they were thrilled with the size of the turnout, Nelson reported Sunday night. She said the crowds through the weekend were far larger than last year, which was the first time Canada Street was closed down for such festivities.
(Continued on Next Page)
Prev Next
Vote on this Story by clicking on the Icon
More like this story