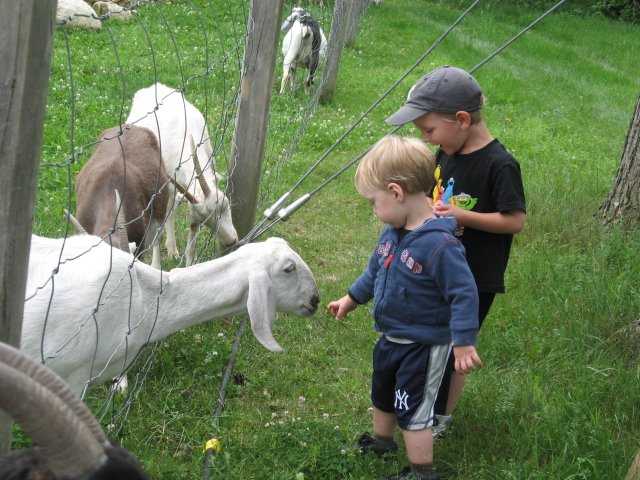 THURMAN — Thurman farmers and friends will celebrate Saturday their heritage of coaxing a living from fields and forests during the Thurman Fall Farm Tour.
This annual self-guided visit to sites across this small mountain town features not hobbyists, but serious professionals dedicated to farming in an area that was settled by farmers and lumbermen hundreds of years ago.
During the Fall Farm Tour set for Saturday Oct. 12, these Thurmanites will open their barn and sugarhouse doors to welcome visitors for tours, talks, demonstrations as well as tasting and shopping for farm goods. They'll lead walks into sustainable tree farms and sugarbushes, or introduce guests to their barnyard animals, and pile onto a hay wagon for a trip into a pasture.

Most of the sites have extensive ties to the past. When Sheila Flanagan and Lorraine Lambiase pack up a shipment of Nettle Meadow Farm's nationally famous artisan cheese, they might well think of Katie Bennett, who one year in the 1920s churned one ton of butter when she and her husband farmed there.
A mile to the south, Gary Martin follows in the footsteps of his 7th great-grandfather, Caleb Reynolds when he starts up his sawmill at Martin's Lumber. Reynolds was owner of the first sawmill in Thurman. Despite having different equipment, Martin's challenges are much the same as his ancestor's.
Farther down the road, Mike Hill and Ralph Senecal of Valley Road Maple Farm tap some of the same maples that yielded sap to Thurman syrup producer Hollis Combs, a local legend who began tapping maples as a boy and continued into his early 90s.
At nearby Whitefield's Farm, Don and Michelle grow vegetables and poultry the old-fashioned natural way, basing their operation in a large historic stone structure.

At Toad Hill Maple Farm, Randy and Jill Galusha are making maple syrup products, following in the tradition of Randy's great-grandfather, but with cutting-edge technology. Charles Wallace, too, boils sap on family property, still working with his dad, Jim, who started the operation now called Hidden Hollow Maple Farm.
(Continued on Next Page)
Prev Next
Vote on this Story by clicking on the Icon