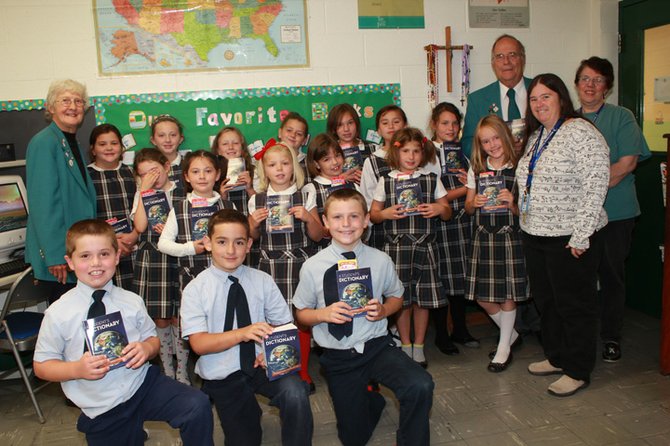 Ticonderoga — In an era of computers, smartphones and other technology, are paper dictionaries still relevant?
Ticonderoga Elks Lodge 1494 believes so.
"There's much more to a dictionary than just the spelling of a word," Richard Nadeau, Ti Elks Dictionary Project coordinator. "There are some things you just can't do with a computer. And there are still many students who don't have access to a computer or the internet."
That's why the local Elks recently completed their ninth year with the national Dictionary Project. The effort gives a dictionary to every third grade student in the area. This year more than 600 dictionaries were given to students at Ticonderoga, St. Mary's, Crown Point, Moriah, Putnam, Schroon Lake, Mountainside Christian Academy and Addison, Vt., schools.
The dictionaries, which are updated every year, also include the Declaration of Independence, the U.S. Constitution, mathematical and science tables, presidential biographies, maps and other information. Large print dictionaries are available for students with vision problems.
"The goal is to give students a reference tool to help them," Elk David Carr said. "We feel a dictionary is an important tool for everyone. We know of students who have used their dictionaries all through school and taken them to college."
The Ti Elks also present French and Spanish dictionaries to middle school language students.
The Dictionary Project began in 1995 when Mary French, a resident of Charleston, S.C., decided to raise money for dictionaries in a local school. By 1999 French had managed to get dictionaries to every third grade students in her state. That's when Carr heard about it.
"My wife, Penny, is a retired English teacher," Carr said. "She thought it was a great idea to give dictionaries to students and suggested the Elks may want to get involved. I spoke to Sue Fahey, a Ticonderoga third grade teacher, and she was excited about the idea."
(Continued on Next Page)
Prev Next
Vote on this Story by clicking on the Icon