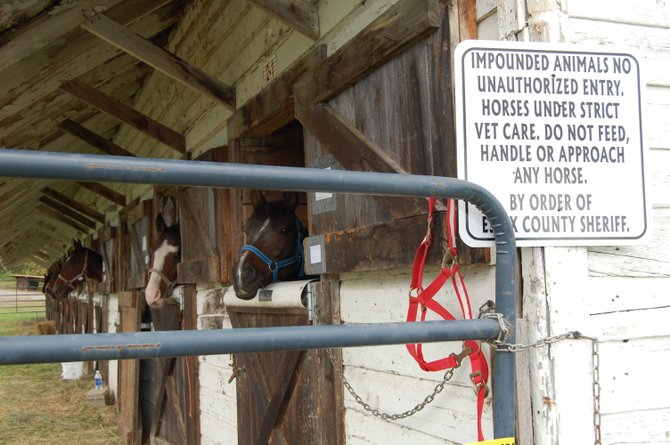 continued — CARE OF THE HORSES
"We want to move them into new homes as soon as we can, but we first must make sure a veterinarian has declared them healthy enough to leave, so it's still very early in the process," County Manager Daniel Palmer said. "We have a lot of work to get to the point where we can move (the horses) into new homes as soon as we can."
Palmer said the county is seeking help from various SPCA and Humane Associations to help with the adoption process and a trainer will be working with the horses that aren't socialized.
Palmer said the county has seen a tremendous amount of community support to help care for the animals with donations of hay, food, buckets, harnesses and more.
"We are extremely grateful we've got a lot of what the horses need from the community and about $4,260 in donations," Palmer said. "We don't have a designated 'horse person,' at the county so it's going to be a new process of getting the animals in new homes."
To donate, people should contact Tam Mrose of the Animal Cruelty Task Force at 834-7849. Donation checks can be sent and made payable directly to the Essex County Treasurers Office, P.O. Box 217, Elizabethtown, N.Y., 12932. Anyone issuing a check is asked to indicate on the memo line of the check — Horse Care.
Vote on this Story by clicking on the Icon