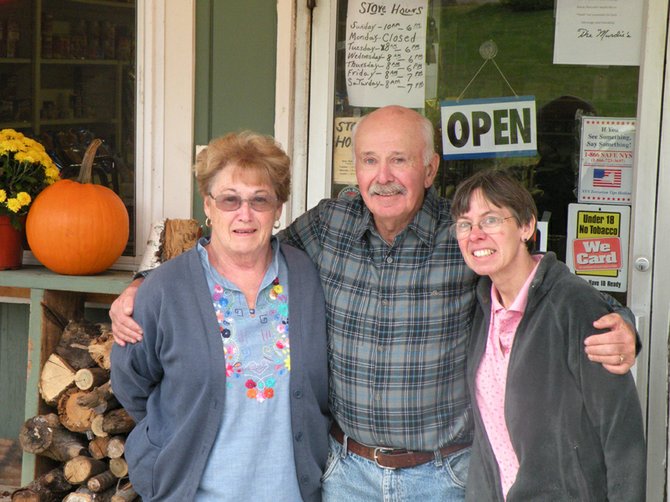 continued — Seeley had worked for the National Lead mine at Tahawus, where Lee Murdie moved in 1945 with his family when he was 5 years old. Lee graduated from Newcomb Central School in 1959 and studied business administration at Canton ATC before moving back to the area. He married Gloria Shamney in 1962. Her family was originally from Rochester, Vt., and her father operated a sawmill in the town of Newcomb. When Seeley purchased the store from Clarence Jones in 1965, Lee Murdie was working at the Tahawus mine as an accounts payable clerk in the accounting office. Operating the Jones store was not on his radar; it was Walt Seeley's dream at the time.
"Walt decided he was looking for an easier life, and so he bought the store," Lee said. "And he said, 'I never thought about people stocking the shelves or ordering. When I came home at night from the mines, Clarence would be sitting on this stool behind the counter just bringing in the money.' He said, 'When I realized how much work it was, I decided I didn't want it.' So he closed her down within a couple of years, and we bought it from him."
During the Seeley years, the second floor of the Minerva General Store was turned into an apartment. That's where Lee and Gloria Murdie would live for many years, raising three children and running what became Murdie's General Store. News of the purchase was published in the Feb. 18, 1970 issue of the North Creek News Enterprise, which reported that the store had been closed for several months and would soon reopen with new owners.
"While Mr. Murdie will stock about ninety percent groceries, he will also handle some hardware in the spring," the newspaper reported. "He hopes to put in a line of good fishing tackle and possibly sell bait. Mr. Murdie, an amateur sportsman himself, is very interested in this aspect of his business."
Vote on this Story by clicking on the Icon