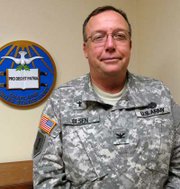 LATHAM — After three decades of Army service, New York Army National Guard Chaplain (Col.) Eric Olsen, a Saranac Lake resident and the New York National Guard's top military chaplain since 2008, is ending his military career.
An Iraq veteran, and an advocate for troops and their families, Olsen retired from the Army National Guard on Sept. 30.
He's leaving with no regrets -- just gratitude for the Soldiers with whom he's shared, "thousands and thousands of sacred moments," Olsen said.
"I'm sure I'll miss the great men and women I've had the chance to work with," Olsen reflected. "I've been taught so much by good men and women. You can't buy that knowledge. I've been blessed."
A native of Staten Island, Olsen felt the call to ministry when he was attending Wagner College, and the call to Army chaplaincy when he was attending the Lutheran Theological Seminary of Philadelphia. He joined the Pennsylvania Army National Guard as a chaplain candidate in 1983.
He was ordained by the Evangelical Lutheran Church in America in 1988, and became the minister at the Holy Trinity Lutheran Church in Saranac Lake. He became an active-duty Army chaplain in 1992, and served with units such as the 1st Infantry Division, 3rd Infantry Division and 10th Mountain Division in places like South Carolina, Germany, Egypt and Fort Drum.
He joined the New York Army National Guard in 1999, served extensively in New York City following the 9-11 attacks, and volunteered to deploy to Iraq with the 1st Battalion, 108th Infantry in 2003. He survived an IED attack, and was awarded the Combat Action Badge.
One of those sacred moments Olsen speaks of occurred in Iraq, when an officer knocked on the door of his quarters around two in the morning, seeking comfort. The officer had survived two IED attacks in one day, Olsen recalled. "He was scared to death," Olsen recalled. "Together we walked him through that and brought him out the other side. We found his sense of peace and belonging."
(Continued on Next Page)
Prev Next
Vote on this Story by clicking on the Icon