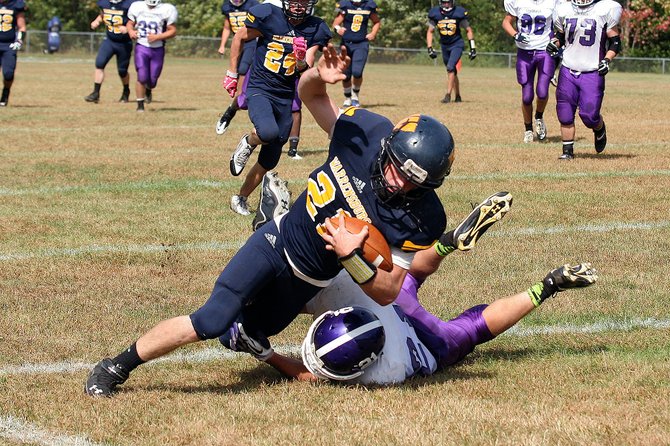 LAKE GEORGE — With time expired on the game clock and trailing in the score tally, the Warrensburg football team caught the Lake George Warriors off guard with a trick double-reverse 29-yard touchdown pass play. The result was a dramatic come-from-behind victory Friday Oct. 4 in front of a capacity crowd.
The Lake George "Blue Zoo" student cheering section had been standing behind the goal post, ready to rush onto the field to celebrate what had seemed to be a sure win, but the shocking final-play turnaround left them in stunned silence.
With three seconds left on the clock, three-year Burgher quarterback Malachi Prosser took the ball, handed it to running back Connor Scott who swept towards the left sideline, but handed the ball off to receiver Jake Nemec who ran in the opposite direction. Under pressure, Nemec tossed the ball downfield to Prosser, who took the ball into the end zone to reverse the team's fortunes and win the 26-24 victory.
Powerful, elusive running by Scott had been a key factor in the game. He had tallied 257 yards rushing, including a 75-yard and a 65-yard run. Scott was backed up by runs from Matt Boodman, who helped move the ball downfield on the final drive.
The dramatic final play worked because the Warriors were probably keying on Scott, the athletic back speculated after the game.
"The Lake George players were calling out my number throughout the game," he said. "Then on that last play, they all followed me."
Nemec was nervous, but his game-winning throw was on target
Nemec, a sophomore, said he was "pretty nervous" after coach Mike Leonbruno called the timeout with 3 seconds on the clock and proposed the strategic play.
"When he called the play, I got butterflies in my stomach — I knew it was 'make it or break it' for this big game," Nemec said. "I looked downfield, Malachi was open, and as soon as I let go of the ball, I knew we were going to score. I turned around and didn't look — while all our fans rushed onto the field."
(Continued on Next Page)
Prev Next
Vote on this Story by clicking on the Icon