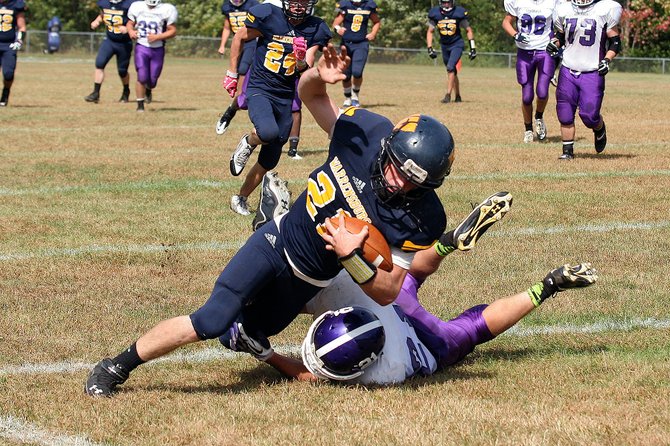 continued — Nemec stayed where he threw the ball, while the other players piled into a joyous heap in the end zone.
"I was speechless — I was wicked happy," Nemec said. "I was on top of the world......It was the best feeling I've ever had."
Prosser also spoke of that last play. He recalled how the Lake George crowd shouted out "Two, One," counting off the seconds to apparent victory as the double-handoff was being executed.
"Then I ran downfield, looked back, saw the pass coming toward me, and thought 'Oh, Boy.' I caught the pass, turned around and ran. A Lake George player dove at me but missed, then I took off for the end zone."
Then the joyous mayhem erupted, Prosser recalled.
"In the end zone, all my teammates tackled me, and I heard a player yelling, I love you, I love you! — and we were heaped in a big pile."
McLaughlin's injury fired up the players
Prosser speculated that the team had been fired up by the loss of teammate Rogers McLaughlin, a key blocker and defender, sidelined in the first half with a dislocated finger. After he was taken away in an ambulance, the Burghers resolve to win was strengthened, Prosser said.
"Rogers gives 110 percent each play," said Prosser, who's been a quarterback since third grade. "And our motto is 'You mess with one of us, and you've got to deal with all of us."
He continued that the running backs ran harder than ever, and the lineman were more aggressive after McLaughlin's injury.
"We knew that Rogers wanted to be in the game," he said.
Throughout the game — Lake George's homecoming — the lead changed often as each team made powerful drives.
Lake George running back Rick Jowly led the Warrior offense with 127 yards rushing and a touchdown. Quarterback Tyler Brown ran for two touchdowns.
Vote on this Story by clicking on the Icon