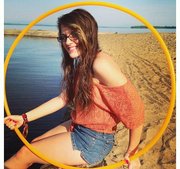 Plattsburgh — Friends came together for a night of music and dance in support of Alexa Limato who was seriously injured in a Sept. 20 house fire on Couch Street. The event "Help Alexa Heal" was held Sept. 26 at the Green Room and raised more than $3,000 that went directly to Limato and her family.
"We stayed up till almost 4 in the morning counting the money and it was just amazing to see how much people, even people who don't know Alexa, thought to give to help her," said Limato's friend and one of the event organizers, Laura Colon. "People gave between $1 and $60 at a time."
Colon said it was moving to see people who had been affected by the fire come out for Limato.
"One of the firefighters who carried Alexa out of the house came to the party earlier in the night with other firefighters, and Alexa's downstairs neighbor came and donated $100," Colon said. "I know it would mean a lot to Alexa that people came out for her."
Limato, a psychology student at Plattsburgh State University, is being treated at a hospital burn unit in Syracuse. Limato was one of 11 who were displaced due to the fire. Limato sustained major injuries when she was trapped in her third floor apartment and had to be rescued by firefighters.
On the website dedicated to Limato's recovery, a family member posted an update reading, "We are beyond relieved to report that Alexa has come off of the respirator and is breathing on her own with the help of oxygen. She is fully aware of the events that took place on Sept. 20 and with her usual grace and courage is apologizing for inconveniencing everyone, thanking us all for being there, asking us if we are okay and if anyone else was hurt, she is an unbelievable inspiration and I am so proud to be her aunt."
(Continued on Next Page)
Prev Next
Vote on this Story by clicking on the Icon