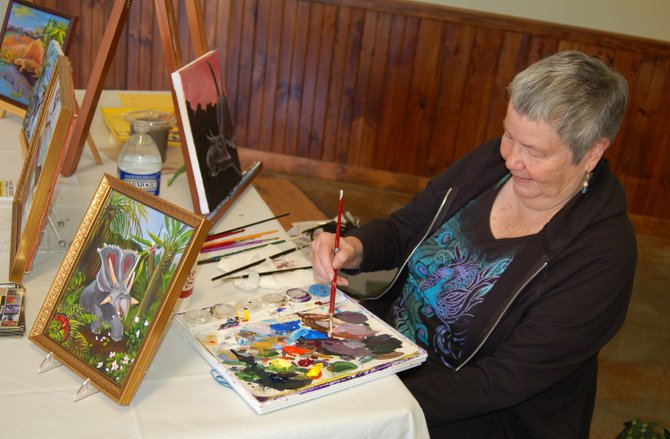 continued — "I taught myself to carve about 15 or 16 years ago," LaMay said. "I love Santas, so that's how I got started, with a knife, a gouge and a book … I am so busy with Santa orders that I don't have extras for people, so I started doing the other pieces — the shelf sitters and the ornaments — so I would have something that was a little bit faster and they would be available when I do shows."
It takes LaMay a couple weeks to carve a Santa, working on weekends and at night after her getting home from her full-time job.
"And from there it takes about as much time to paint," LaMay said.
This was LaMay's fourth year participating in the Studio Tour and her second year at the Carousel.
"It's wonderful that they let us be here, but for me it's an obvious connection with the hand-carved animals on the Carousel," LaMay said. "For me, it's all about exposure, getting my card out to people. And I also have an Etsy shop on the Etsy marketplace (CALaMay Carvings) … It gets a lot of views after I do an event like this."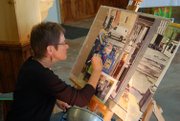 Patterson was sitting behind four large paintings, closer to the indoor Carousel, using a magnifying glass to help create details on her latest watercolor.
"I usually do my work at home in my studio," Patterson said. "I'm here today to show people my work and be out and about."
This is Patterson's second time taking part in the Studio Tour, and she's found it's been a way to get her name out in the public.
Patterson's work usually has social and political subjects. The watercolor she was painting on Saturday is a good example. This one was a girl in a phone booth on a busy city street. She was working from two photographs, one of the girl and another she found online of a cityscape.
"This one actually had to do with more of a feeling than a specific idea," Patterson said. "It's the difference between the present and the past with the telephone booth being the past because you don't see them very often anymore. And then the girl, she's the younger generation, inside the phone booth. Other than that, it's just a feeling."
The Artist at Work Studio Tour was organized by the Saranac Lake Art Works group. For more information, visit online at www.saranaclakeartworks.com.
Vote on this Story by clicking on the Icon