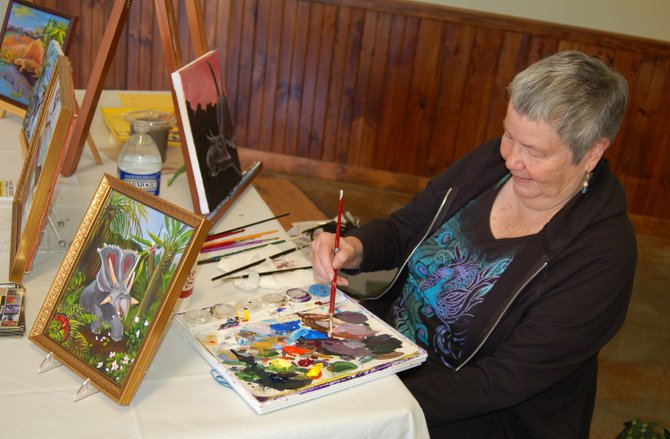 continued — Bernstein has seen the Artist at Work Studio Tour grow over the years and become more popular. Always held during the fall foliage season, the tour highlights artists and craftspeople who live and work throughout the Tri-Lakes region: Saranac Lake, Lake Placid, Jay, Wilmington, Au Sable Forks, Rainbow Lake, Onchiotoa, Gabriels, Paul Smiths, and Lake Clear. In all, more than 40 artists from a variety of disciplines took part in this year's event.
"People come into our gallery and ask all the time about when it's going to be, and we have a brochure now that people can look at year-round," Bernstein said. "It's good for us to all get together and do something. We kind of work off one another in a way, so it benefits us in a lot of ways, from getting more community members in and people from other areas, and seeing one another."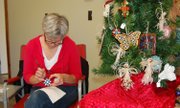 Bernstein was sitting a few feet away from LaMay, who was in a metal folding chair painting a snowflake Christmas ornament she had carved from wood. Her medium was fitting at the Carousel, as all the Carousel's wildlife characters were hand-carved and painted by artists. Carved and hand-painted Santas are LaMay's main product, and some of her work was on display on a table next to her. Like many local artists, LaMay does not have a Main Street studio.
"I actually carve at my kitchen counter, so I work at home," LaMay said. "I use just hand tools, knives and gouges and a mallet when I'm shaping my figure pieces."
After carving the Santas, snowflakes and other sculptures — such as moose and bears — LaMay stains her work, paints it with acrylic (because it dries fast), and gives them five or six coats of varnish. She uses basswood for the larger pieces and pine for the smaller ones.
Vote on this Story by clicking on the Icon