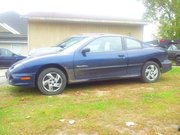 Plattsburgh Police arrested a man for lewdness after a woman reported he was following her in his vehicle while masturbating.
At approximately noon on Oct. 4, the Plattsburgh Police Department received a 911 call from a female reporting a male following her in a blue Pontiac sports car, masturbating inside his vehicle. Officers responded to the scene and shortly after, located the suspect and vehicle.
After interview, police arrested Roger Gregory Jr., of Mooers, charging him initially with public lewdness, misdemeanor. Detectives have taken over the investigation and are in the process of interviewing other witnesses who may have witnessed similar conduct over the past several weeks.
The police department released photos of Gregory as well as his car and are interested in speaking with anyone who may have information about this incident or others in the past several weeks.
Anyone with additional information is asked to contact Chief Desmond Racicot at 563-3411.
Vote on this Story by clicking on the Icon