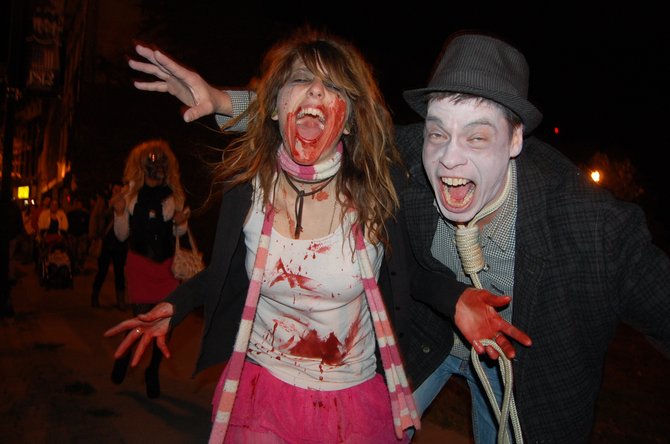 continued — The Crafty Geek Brigade has since disbanded and members of the Lumber Jills Roller Derby team and other community and student-run groups continue to organize the event.
"Our club helps put on the Zombie Walk because we love to get campus involved in community events," Veronica Miller, co-president of the SUNY Plattsburgh Zombie Defense League said. "We also are fortunate enough to have a great community that is enthusiastic about such a Halloween-oriented event and so Zombie Defense League wouldn't ever pass up the opportunity to help out."
Miller said that as a new co-president and a fan of the annual walk she'd love to see an even bigger turn out for this year's walk. During last year's festivities, she said the most memorable part was seeing the faces of onlookers.
"We passed by a few restaurants downtown and I'm pretty sure we terrified a fair share of unsuspecting diners," Miller said. "It amazes me that we can have three hundred or more people gathering as zombies. I can't wait for the performances after the walk this year."
Registration will begin at 6 p.m. in the Durkee Street Parking lot and the walk will begin at 6:30 p.m.
For more information about the walk go to the Zombie Walk Facebook page.
Vote on this Story by clicking on the Icon