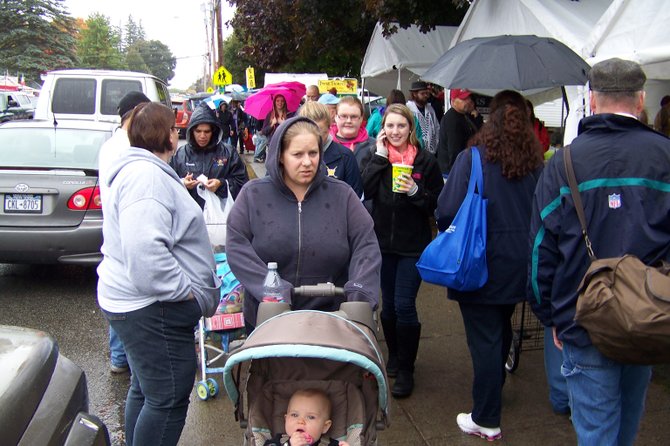 continued — Smith and others have said the 1,000 or more private sales yield a wide variety of treasures.
"The real bargains are on the side streets from the private property owners," she continued.
Warrensburg Town Supervisor Kevin Geraghty said local residents were proud that the great garage sale was one of Warren County's top three attractions.
"This sale event allows local people to earn extra money while showcasing our community to many thousands of visitors," he said.
How to survive & enjoy the great sale:
Here's the scoop on how to avoid frustration of crushing traffic and to maximize bargain-hunting fun:
• Arrive well before the weekend and check into an area inn or motel. Savvy shoppers get the "first pick" of the wide range of wares on Friday or before.
• Shoppers who do arrive on the weekend should get into Warrensburg as early as possible, and take the Northway to exits, 22, 24, or 25.
• Avoid Northway Exit 23, the primary road into Warrensburg, since it becomes very congested by 8:30 a.m. If you do use Exit 23, take a right turn to go via East Schroon River Rd. and follow signs to a free parking lot at the Warren County Fairgrounds and take a free trolley downtown.
• Arriving from Northway Exit 22, turn left onto Route 9 and drive just a few miles north to Warrensburg.
• From Northway Exit 24, go south on Schroon River Rd. and park at the fairgrounds where shuttle buses will take visitors in and out of town.
• Or, from Northway Exit 25, head south out of Chestertown on Route 9 into Warrensburg.
• From Friday Oct. 4 through Sunday Oct. 6, there is no parking on Main St. from the bandstand to Stewart Farrar Avenue, nor on Elm St., nor Emerson, Second Hackensack, Horicon and Adirondack avenues. Parking is also prohibited on the north side of Stewart Farrar, and the north side of Library Ave. from Elm to James streets. The Marc Bruce Park at Hudson and Fourth Ave. is also off-limits for parking. The parking bans are so emergency vehicles can move through town. Those who disobey these bans are likely to have their vehicle towed.
Vote on this Story by clicking on the Icon