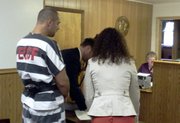 Elizabethtown — The third and final trial in the murder of Keeseville man Robert Rennie, Jr., ended with a guilty verdict against Paul Taylor, 39, of Keeseville.
A jury returned with guilty verdicts on all three charges on Oct. 1 after one day of deliberation, murder in the second-degree, first-degree gang-assault and third-degree criminal possession of a weapon.
District Attorney Kristy Sprague said there was no response from Taylor as the verdict was read.
Robert Rennie, Sr., father of the deceased, who sat through every court proceeding for all three trials, said he was glad the trials are over.
"I couldn't just sit home and wonder what was happening," said Rennie. "We were a little concerned this morning."
Rennie thanked Sprague for doing a good job throughout the trials and though he and his family were unable to thank the jury personally, he wanted to.
"Our family thanks you for what you did for us, they did the right thing," Rennie said.
Sprague said the most valuable evidence in the case against Taylor was the eye-witness account given by Angela Rivers, wife of the second man found guilty in the murder case, Michael. She testified to witnessing Taylor beat Rennie along with her husband and Scott Denno.
"Having that eye-witness account was invaluable to this case," Sprague said.
At the beginning of the trial, Taylor's attorney, Essex County Public Defender Brandon Boutelle, tried to make the argument Angela was trying to use Taylor as a scapegoat for the murder.
"I think the jury saw through the conspiracy theory argument because for one, if she was going to do that, she would have created a story that didn't involve her husband," Sprague said.
During deliberations the jury requested readbacks of the testimonies of Angela Rivers and Samantha LaCroix, who was Taylor's former girlfriend and roommate at the time of Rennie's murder.
(Continued on Next Page)
Prev Next
Vote on this Story by clicking on the Icon