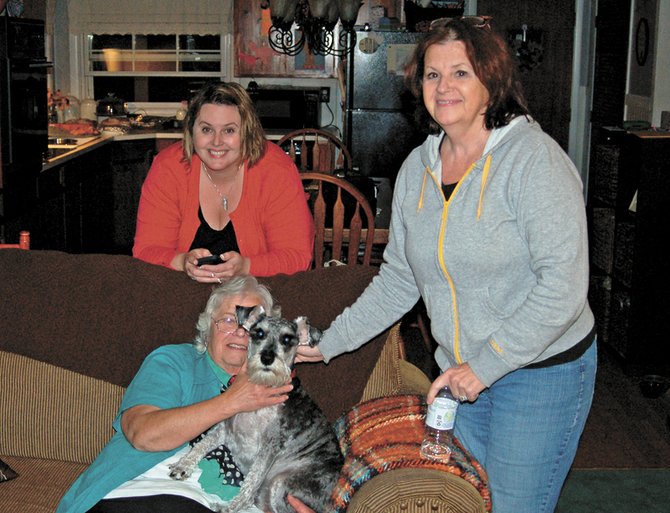 continued — Back home, tears of joy filled the room.
"Yayyy," Erin said. "It's awesome."
"Oh, my God. I can't believe it," Molly added.
"I told them they'd win that, with that song," Shannon said.
"Who told them?" Molly asked.
"With that song," Shannon said.
"You told them that?" Molly said.
"I told them it would be at the top of the thing, when I heard the song for the first time," Shannon said about "They Called It Music."
In his acceptance speech, Leigh began to thank "everyone."
"I thought last year was a fluke for sure," Leigh said. "I don't know what to say. We just keep trying to play the music that we hear in our heads and express it. And we feel very fortunate to be able to do this with our lives and to have so many folks think we do it well means a great deal. I'd like to thank Paul Lohr and New Frontier Touring for putting us out in front of people and Compass Records for allowing us to make music that we like to make. And I especially would like to thank members of the Gibson Brothers, past and present, for their contribution to what we do. And I can't thank you enough."
Eric began his acceptance speech by thanking their families, "for putting up with a group of guys that are gone a lot. It takes a selfless family, especially our wives, to put up with what we do. I want to say thank you to God, and I want to hi to my mom listening back home in Ellenburg Depot, New York. Thank you, folks. God bless you."
Leigh rushed back to the microphone to say, "I'd like to say hi to my mom, too," which was followed by laughter and tears from the three women in Ellenburg — the boys' mom, sister and aunt — and a few yips from Finnegan.
Vote on this Story by clicking on the Icon