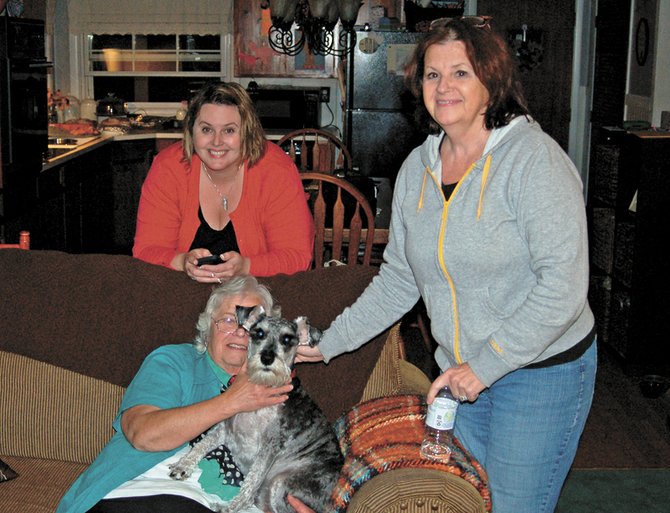 Ellenburg — For those here in the Gibson Brothers family who couldn't make it to Raleigh, N.C. Thursday, Sept. 26 to see "the boys" win four International Bluegrass Music Association (IBMA) awards, watching the ceremony on the computer was the next best thing.
Eric and Leigh Gibson's mother, Shannon, joined her sister, Molly Begor of Rouses Point, at her daughter's home. Erin Gibson LaClair, the boys' younger sister, lives a stone's throw away from their alma mater, Northern Adirondack Central School, where she works as a second-grade teacher. After putting her three children to bed, it was time to gather around a laptop computer in the front sitting room and watch the IBMA awards ceremony streaming live from the Bluegrass Today website.
Earlier in the day, Eric was awarded the 2013 IBMA Bluegrass Songwriter of the Year award, so the evening began in high spirits. Still, there was a little nervous energy in the air. Even Shannon's 2-year-old schnauzer, Finnegan, was caught up in the buzz, barking with excitement and edgy because of the bluegrass music filling the home. With homemade chili and rolls settling in their stomachs, and the promise of apple crisp for dessert — made with apples picked from Shannon's front yard in Ellenburg Depot — the family sat down at 7:30 p.m. to watch the three-hour awards show.
Twenty-nine minutes into the ceremony, the Gibson Brothers were awarded Vocal Group of the Year, and producers played "Home on the River" as band members walked on stage. During the acceptance speech, Leigh thanked his brother.
"Without his vocal, I probably wouldn't be standing here today, and I owe him my career in bluegrass music because he started the Gibson Brothers before it was called that," Leigh said.
Those words caught Eric by surprise, since they're known for light-hearted verbal sparring on stage while tuning their instruments. For a moment, their sibling rivalry vanished, and it was filled with mutual respect.
(Continued on Next Page)
Prev Next
Vote on this Story by clicking on the Icon