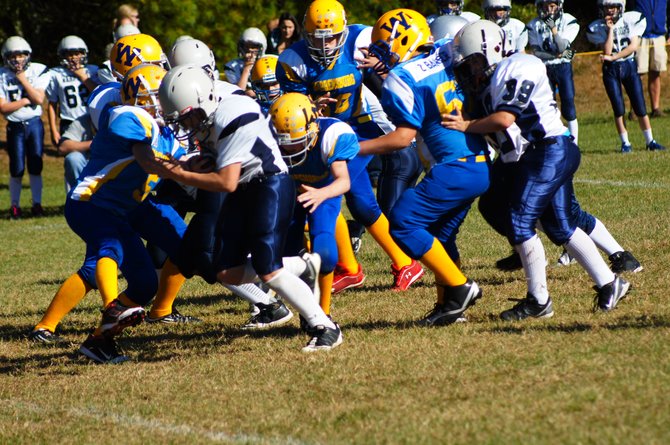 WARRENSBURG — A week after a dominant win against Ticonderoga, the Warrensburg Senior Youth Football team fought hard against Lake George, but lost 39 to 28 in a game played Sept. 28 on the Burgher home turf.
Led by Jackson Corriveau, the Little Burghers put up a very strong effort, coach Gary Baker said. Corriveau ran for 150 yards and threw for two touchdowns. Jessie Griffin ran for an additional 45 yards and caught a touchdown pass, and Hunter McKenna ran for 50 yards and caught a pass for a touchdown.
The team's defense was led by Tommy Moore, Hunter McKenna and Jaron Griffin, Coach Baker said.
"These kids worked so hard in the second half to climb back into the game," he said, noting the players' parents as well as the Warrensburg community should be proud of their effort. "We kept waiting for that one turnover to go our way and it just never came."
He said the offensive units of both teams outran the opposing defense most of the time.
"Lake George is a solid team with good athletes and good coaching," Baker said. "It is always a dogfight when facing them."
Both this 5th and 6th grade squad and the 3rd and 4th grade team will be playing scrimmages under floodlights in Lake George Friday Oct. 4 in conjunction with the game between the two towns' high school Varsity teams. The 5th and 6th graders play during halftime, or about 8 p.m., and the 3rd and 4th graders are to play at 5 p.m.
The two younger teams will play in a full game in Lake George on Saturday Oct. 5, and the 5th and 6th grade squad will play against Hudson Falls at 10 a.m. Sunday Oct. 6 on the Hudson Falls High School field.
"Friday night should be a lot of fun," Baker said about the arch-rivals from neighboring towns scrimmaging.
(Continued on Next Page)
Prev Next
Vote on this Story by clicking on the Icon