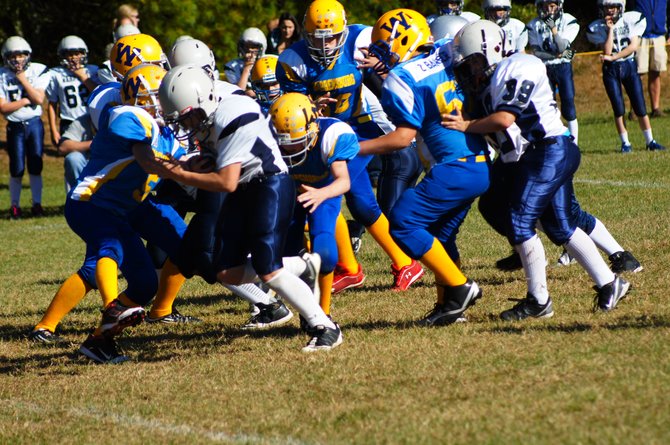 continued — Young Burghers defeat Ticonderoga
The Senior Burghers' loss followed a solid 37-18 win versus Ticonderoga the prior week on the Warrensburg town field.
In their win, the Burghers utilized a variety of formations including the I Wing, Power I, Wishbone and Double Wing. This 5th and 6th grade team racked up more than 350 yards on the ground to beat a talented Ticonderoga squad.
Leading rusher for the Burghers was Jessie Griffin with 145 yards and three touchdowns, Jackson Corriveau with 61 yards and one rushing touchdown and one pass for a second touchdown.
Reece Rundell, who stepped into the quarterback position, tallied 28 rushing yards as well as heading up the offensive playmaking, Coach Baker said.
"Rundell provided strong leadership and good decision making for the offense," he said.
Hunter McKenna ran for 60 yards, Bradley Roach gained 29 yards, Zack Shambo tallied 20 yards,Tommy Moore with 15 yards and Hope Boland with 6 yards. A solid defensive effort was anchored by Jackson Czuba and Jackson Corriveau with substantial efforts from Jaron Griffin, Tommy Moore, Jessie Griffin, Daniel Wescott, Reece Rundell, Bill Cameron, Wyatt Baker and Jordan Mallory, the coach said.
Coach Baker said his team members have memorized a large number of plays involving a half-dozen formations — and many of the plays differ only by subtle variations.
"This group of kids just 'get' the game," he said. "No matter what I call in the huddle they execute it properly — I am very proud of this group."
Baker added that his team's line — consisting of Jackson Czuba, Wyatt Baker, Bill Cameron, David Luck, Zack Barber and Antonio Devalle flanked on the ends by Jaron Griffin and Jackson Corriveau — is a critically important element of our team and its success.
Younger Burghers showing potential
On Sept. 28, the third and fourth grade Little Burghers played Lake George, and lost to the Warriors 18 to 12.
The squad members contributed strong play on both sides of the ball. Standouts this week were Dillon Winchell who scored a touchdown, Tanner McKenna with solid play, and Tristan Hitchcock who recovered a fumble and took off 65 yards for a touchdown for his team.
"This team played with a lot of heart today and is getting better each week, coach Mike Curtis said. "They never gave up."
Vote on this Story by clicking on the Icon