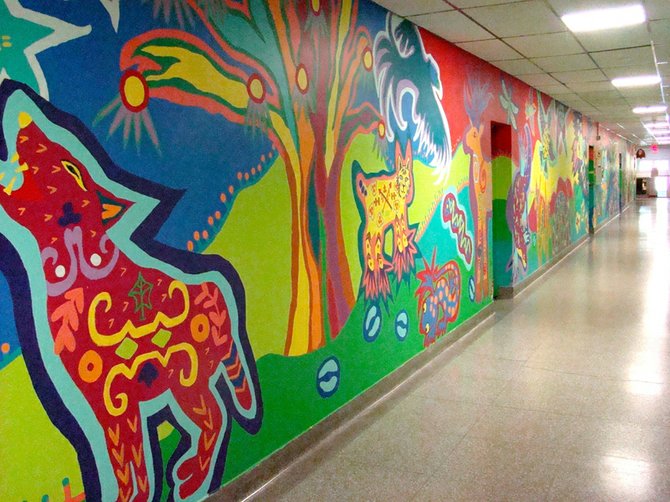 continued — School Principal Dave Snide had positive remarks about the project.
"Mrs. Arsenault provided a terrific opportunity for school and community collaboration and the kids are so proud of their work," Snide said.
Getting the mural to a point of completion this past June took a lot more than paint and wall space, according to School Superintendent Mark Brand.
"After over a year of planning, obtaining grant funding and active participation of students, faculty, staff, Board of Education members, parents and community volunteers, our mural came to life," Brand said. "The mural is a visual representation of the area we are fortunate to live in and a daily reminder of the spirit of cooperation of our school community."
Arsenault wanted to recognize the helpers: Alyssa Cuthbert, Lizzy Kries, Sarah and Bob Lewin, Nancy Strader, Jon Vorhees, Sue Norris, John Reynolds, Jason Dora, Mellissa Mulvey, and Debbie Starling. She also stressed that once everything came together, the mural was finished in one week.

"None of this could have been possible had the Adirondack Lakes Center for the Arts and the town of Indian Lake not collaborated with the ILCSD to acquire the grant funding awarded by Arts and Education," Arsenault said. "This resplendent mural will enliven our school environment for years to come ... It is something for our students and school community to be proud of."
Anyone having the opportunity to visit and view this mural should pay special attention to the section of the wall around from where the mural begins. It is there that they will find the signatures of all the students that contributed to this piece of art.
Vote on this Story by clicking on the Icon
More like this story