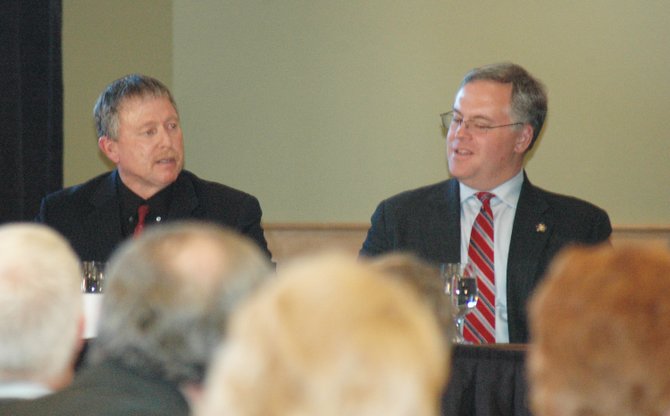 continued — "It is a wonderful day to have the Governor come up here and lay that news on us," ORDA President and CEO Ted Blazer said. "They have laid out a great plan to get the facility up to tip-top condition."
Blazer said that the road would continue to be a seasonal use highway.
"When we toured the area with the state (Nov. 19), it was wild and woolly up there and we are just getting into November," Blazer said. "We will rely on DOT to come up with the plan and then we will work closely with them to get the proper permitting in place."
Blazer said that the construction may cause some disruptions in traffic patterns.
"It will involve some change in the normal operating schedule," he said. "We will work with the DOT to see how we can have traffic move around during the heaviest parts of the tourism season."
DOT Commissioner Joan McDonald said that the state will look for contractors with the, "best value," to work on the project.
"We will sit down with everyone involved and weigh our options," McDonald said. "We will look at the impacts of a complete closure, alternating one lane of service or the traditional phased plan. What we will look for is the way to get this done as quickly as possible as we deal with the weather and tourism."
Open from mid-May to mid-October each year, the highway is traveled yearly by more than 28,500 vehicles as well as numerous cyclists and hikers that traverse the eight-mile scenic roadway to the 4,867 foot high peak of Whiteface Mountain. In October 2008, the complex was listed on the National Register of Historic Places. The highway has not been resurfaced since the early 1960s.
Vote on this Story by clicking on the Icon