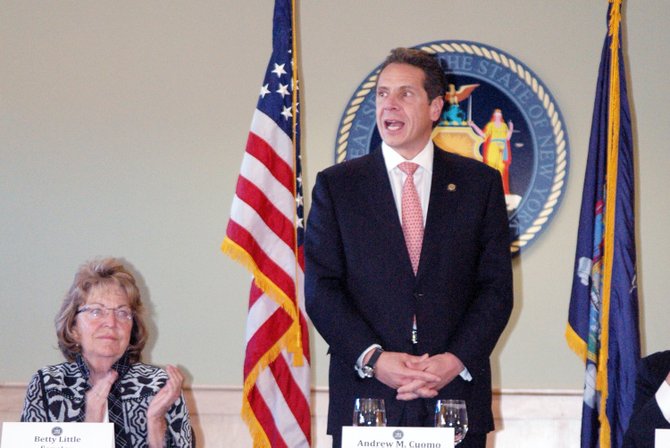 Lake Placid — Gov. Andrew Cuomo announced the formation of a partnership which will keep the doors of the Trudeau Institute in Saranac Lake open for years to come.
Cuomo announced a partnership between New York State, Clarkson University, and the Trudeau Institute to form a world-class biotech enterprise during a Nov. 20 press conference at the Lake Placid Conference Center.
"We were in danger of losing the Trudeau Institute and it is a concern that has been going on for years," Cuomo said. "That would not only have been an economical tragedy with the loss of 80 jobs, it also would have meant that a special part of the North Country would have been gone."
The partnership was welcomed news to Saranac Lake Mayor Clyde Rabideau, who is a Clarkson University alumnus.
"I am very proud of the cooperation between the state, Trudeau and my alma mater," Rabideau said. "Trudeau is part of our heritage in Saranac Lake. To be able to find a way to preserve that heritage and make it a part of our future is vital."
"This is huge not only for the economic impact that Trudeau gives to the area but also the legacy and history of the institution in the Tri Lakes and for the region," Saranac Lake Community Development Director Jeremy Evans said. "I am glad to hear that they are partnering with the state and a strong institution like Clarkson University. This will be a real benefit and I can't wait to see it in action."
"New York State has a major asset in both Clarkson University and in the Trudeau Institute and we must harness these strengths to continue to strengthen our innovation economy," Cuomo said. "This transformational partnership will allow for the best and brightest minds to collaborate and undertake world-class research and development, building the region into a global leader in the biotech industry and driving new opportunities and jobs in Northern New York."
(Continued on Next Page)
Prev Next
Vote on this Story by clicking on the Icon