Photo Gallery
A BEAUTIFUL MESS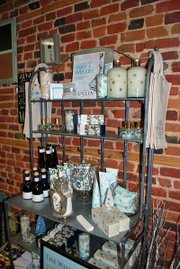 Have you SCENE that MESS? Actually, it's "A BEAUTIFUL MESS," the new downtown Plattsburgh gift and home décor boutique. Peeking in the window and walking into this charming shop is a feast for the senses. Having learned and gained great experience and style from her raved-about shop in Chazy, The Station Café & Gifts, CAROLYN TETREAULT has taken what really worked and added more delights in a new location that will be more accessible to many. She describes
A BEAUTIFUL MESS as, "an eclectic collection of modern and vintage inspired adornments for you and your nest". Shoppers will be inspired to decorate, create, re-purpose, purchase the perfect gift and come back frequently.
Located in the "old Merkel's building" on 74 Margaret Street, the brick walls and tin ceilings are the perfect canvas to build the shop's allure. Carolyn is quick to mention all of the help and support she receives from her husband, Randy, and her daughters; Nicolette Terry, Kristin McAuliffe and Chantal DuBrey. They are highly involved in the build-out, design and on-going creative process. Great brands include: Primatives by Kathy, Lollia Fragrance Line, Bethanny Lowe Designs, Cavallini Papers, and Farm House Fresh skin care products. Carolyn plans to hold workshops using Maison Blanche vintage furniture paint to create fabulous furniture from pre-loved or "side of the road" finds.
Join CAROLYN and NICOLETTE at their Grand Opening Days on Black Friday and Small Business Saturday, November 30th, which will be full of give-aways and surprises. A holiday open house will be held in December.
body, mind & spirit
Winter series
keep the winter blues at bay!
Come and share great conversation,
insights and a glass of wine
with our empowering wellness
professionals, inspirational speakers and spirited hosts
Sponsored by:
Style & Substance and the Champlain Wine Company
When:
1st and 3rd Wednesdays from 5:30 to 7 p.m. at the Champlain Wine Company
8 City Hall Place in Plattsburgh
Local wine and beer available for purchase
Speakers include:
• DEC. 4: Maryanne LeFevre, Licensed Massage Therapist
Carolyn Tetreault, Owner of A Beautiful Mess
Nicolette Terry, Makeup Artist
• DEC. 18: Dana Gunn, Licensed Nurse Practitioner
Janine Kemp-Mead, Skin Care Professional
Speakers for Jan. 15, Feb. 5 and 19 to be announced soon!
email us your questions or request a life coaching appointment at yourstyleandsubstance@gmail.com
Vote on this Story by clicking on the Icon