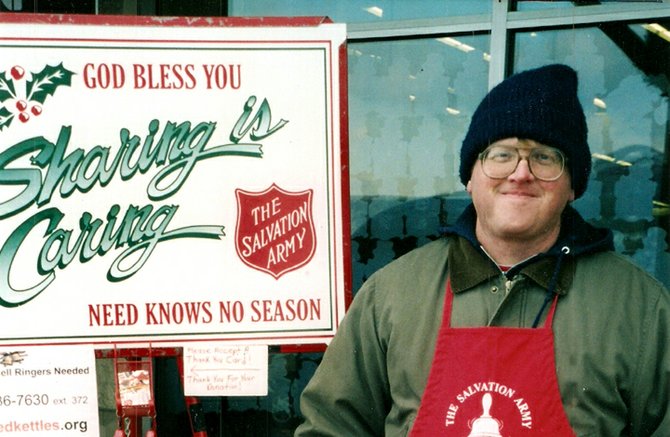 Ticonderoga — Christmas is a time for giving, something Glen Buell knows about.
Buell is the Ticonderoga coordinator for the annual Salvation Army Red Kettle drive. He is lining up help for the traditional charity effort.
"The Salvation Army is seeking volunteer bell ringers for its Red Kettle campaign in Ticonderoga," Buell said. "The Red Kettles have become a tradition throughout the United States, raising money to assist the less fortunate. Volunteers are needed on Friday, Saturday and Sunday starting the week before Thanksgiving up until Christmas Eve. Companies, organizations, schools, and individuals can sign up as volunteers. Up to 90 percent of the money raised is available to help people in need in our local community."
People interested in volunteering for the Red Kettle campaign, or throughout the entire year, can call Buell at 597-3222.
"If you have a friendly face, you don't mind being out in the cold for an hour or two, and you would like to do something to benefit your community this holiday season, then consider becoming a volunteer bell ringer for the Salvation Army," Buell said.
Anyone who needs assistance can also call Buell.
In 2012 the Salvation Army reached a new record, collecting $148.7 million during the Red Kettle campaign.
"There are times in American history when people unite around a common cause and work together to help their neighbor. 2012 was no different," said Commissioner William Roberts, national commander of The Salvation Army. "The Red Kettle campaign signifies a unified goal — the public cares for people who have fallen on hard times. Every donation allows us to meet our mission."
The Red Kettle campaign traces its history to 1891. Salvation Army Capt. Joseph McFee was distraught because so many poor individuals in San Francisco were going hungry. During the holiday season, he resolved to provide a free Christmas dinner for the destitute and poverty-stricken. He only had one major hurdle to overcome — funding the project.
(Continued on Next Page)
Prev Next
Vote on this Story by clicking on the Icon