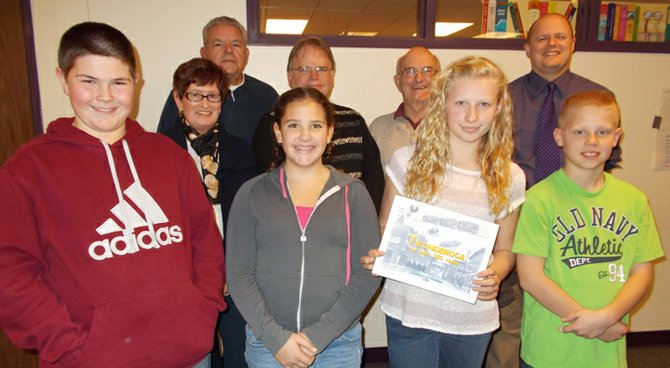 continued — Calendars are also available from Ticonderoga Middle School and St. Mary's School students, who are selling them as a fund raising project to help support their annual whale watch trips. Students will get $2 for each calendar sold.
The money, while welcome, is not the reason students are participating, explained Ti Middle School teacher Kyle Lang.
"It's really a community service project," Lang said. "The money is great, but we want our students involved in the community. This is a wonderful opportunity to be part of an important celebration."
Teacher Lori Fox is leading the sale at St. Mary's.
Students who sell the most calendars will be eligible for prizes. Walmart has donated a $100 gift certificate and Dunkin Donuts a $50 gift certificate that will be awarded.
"The seventh graders are selling these as a fund raiser for their whale watch trips to Massachusetts," Curtis said. "Purchasing a calendar from one of these students is a win-win situation, supporting this excellent educational endeavor as well as our committee's mission. We thank (Ti school superintendent) John McDonald, Jr., Kyle Lang, Lori Fox and the seventh grade classes and everyone in the community for participating."
The calendar was created by Sylvia Boyce, Steve Boyce, Chris Breiseth, Bill Dolback, Perry O'Neill, Rich Strum, Curtis and Dedrick.
"For 2014, we've tried to capture more of the near history (1940-2000) of the town and have focused on groups, rather than individuals, who have influenced the development of our community," Curtis said of the calendar. "Ticonderoga has been able to celebrate its first 250 years only because families, individuals, businesses and organizations have preserved their histories. We encourage the people of Ticonderoga to gather those photos, documents, and stories that will help and inspire future generations to celebrate the next 250 years.
"Our second calendar, the 2014 calendar, is again stunning," Curtis said. "This is a collector's item, a keepsake and an ideal holiday gift. For the many of us who enjoy reliving memories of the town from the old days, turning the pages will be like walking down memory lane."
Vote on this Story by clicking on the Icon