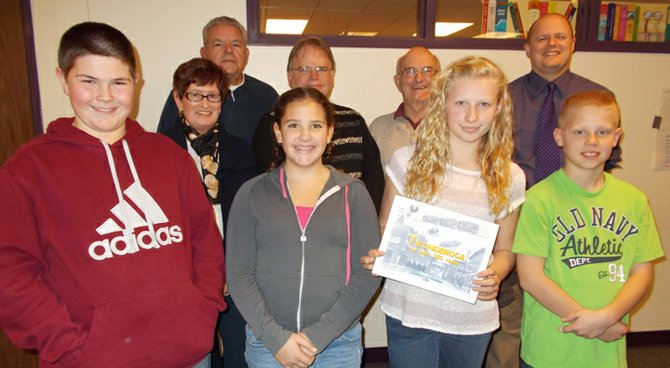 Ticonderoga — As Ticonderoga residents look forward to the community's 250th anniversary, they're calling on history to help finance the celebration.
The First 250 Years Committee is selling 2014 historical calendars. Proceeds from the sale will help pay for the group's "signature event" during the 2014 celebration.
That event will be July 19-27 and will include a historical re-enactment at Fort Ticonderoga, lectures, slide shows, a street dance, the presentation of the annual Ticonderoga High School alumni awards, a golf tournament and the annual Ti StreetFest.
The actual founding of Ticonderoga is traced to July 24, 1764, when a land grant was awarded to John Stoughton. To mark that day there will be a celebration in Bicentennial Park with children's activities, food, a concert and fireworks.
"Ticonderoga is celebrating the 250th anniversary of its settlement, its quarter millennial, in 2014," said June Curtis of the First 250 Years Committee. "This is the second and last calendar created for the purpose of honoring, celebrating and remembering many of the people, places and things that have been instrumental in the growth of Ticonderoga. The calendar sub-committee sincerely hopes that residents and friends of Ticonderoga will enjoy this year's version of 'Ticonderoga, Celebrating 250 Years'."
The committee, co-sponsored by the Ticonderoga Historical Society and the Ti Heritage Museum, has produced the calendar that looks at a particular part of local history each month from January through December 2014.
January, for example, has photos and information on Ticonderoga's military service. February highlights civic groups, March communications, April politics and government, May transportation, June transitions, July commemorations, August popular entertainment, September food, October sports and recreation, November commerce and December legacies.
A schedule for the 2014 celebration is also included in the calendar.
The calendars, priced at $10 each, are on sale at the Hancock House, the Ticonderoga Area Chamber of Commerce, Rathbun's Jewelry and the Burleigh Luncheonette. Anyone wishing to buy a calendar can call Bob Dedrick at 585-7408.
(Continued on Next Page)
Prev Next
Vote on this Story by clicking on the Icon