CHESTERTOWN — Excitement among students is brewing at North Warren Central School over an upcoming event that's a treasured community tradition in northern Warren County, school officials said this week.
Students and school staffers are collaborating on preparations for the 12th annual North Warren Community Thanksgiving Dinner, to by held from 4 p.m. to 7 p.m. Saturday Nov. 23.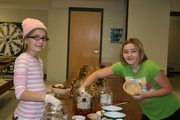 The meal is prepared and served at no charge to people of all ages in the region, particularly the towns of Horicon and Chester and other territory of the North Warren School District.
While the meal is particularly a joy to those who aren't able to prepare a holiday dinner or have no one to share it with, the event is open to all in the North Warren communities.
The meal is a full dinner, from the turkey to pie and everything in between," school principal secretary Shiela Ellsworth said this week.
The school's faculty and staff donates the food — some of it homegrown in their gardens.
North Warren students help gather up the food and on the day of the event prepare the dishes alongside the school's faculty and staff members. Students serve the meals to people seated on a rotating basis in the cafeteria.
Between 250 and 400 meals are served each year, Ellsworth said, noting that about 25 turkeys and 30-plus pies are prepared for the meal.
"This tradition was started by our principal Theresa Andrew to thank our communities for all the support they give our kids and staff all year round," she said. "The event brings the community together — people really look forward to it."
For those who unable to attend, meals are driven to their houses. Several dozen meals per year are delivered to home-bound individuals each year.
The meal includes stuffing, squash, potatoes, vegetable, — all the fixings, Ellsworth continued.
(Continued on Next Page)
Prev Next
Vote on this Story by clicking on the Icon