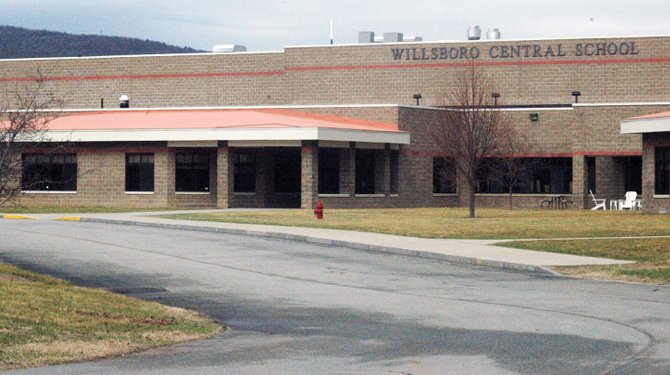 continued — "There is a very limited amount which I can say because this is a personnel matter," Superintendent Stephen Broadwell said. "We have the statement that was read at the board meeting."
"My question would be how they can feel that she is fit to teach their five and six year old students," said Lynn Green, a parent who has removed her child from the classroom in response to the board's decision. "They must see that she is not fit to be in that classroom because they have hired a second teacher in their as basically a babysitter."
Green was one of several parents who gathered by the entrance to the school Nov. 14, two days after the decision of the board, to protest the return of the teacher.
"My daughter loved to go to school and couldn't wait to go at the start of the year," Green said. "Then she was crying every morning saying that she didn't want to go. Now I know why."
Green said that she had been joined by several parents in bringing their concerns to Broadwell about teacher's behavior in the classroom about two months ago, where they played him a three minute portion of a recording made when one of the parents hid a recording device in their child's backpack.
On the tape, a voice reported as Foster's is heard speaking loudly toward students, telling them to, "shut up."
"After hearing the tape we gathered together as parents and called the school to set up a meeting with Mr. Broadwell," Green said. "We voiced our concerns and then we played the clip for him."
Green said after hearing the tape, Broadwell removed Foster from the classroom and began the investigatory part of the matter.
After the decision was reached, Green said she was not the only parent to remove her child from the school.
"Five or six parents have pulled their child from the school and have made arrangements to get their education in other places," she said. "We will continue to fight this."
Green said that there have been some people who have claimed the parents have been too hard on the teacher. She disagrees.
"Bullying is being made into such a huge thing and that is essentially what this teacher has been doing," she said. "Actions like this may have been acceptable before, but it is not now."
Vote on this Story by clicking on the Icon