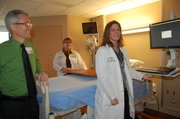 Plattsburgh — CVPH Medical Center officially unveiled its newest renovation Nov. 12.
The new wing containing 22 private and health efficient rooms is located on the medical center's fourth floor. It will open to patients Nov. 20.
The unveiling was marked with a ribbon cutting ceremony attended by CVPH medical staff, Assemblywoman Janet Duprey, Congressman Bill Owens and other community leaders.
The ribbon cutting ceremony comes at the end of two years of work to reconstruct the floor to better accommodate patients and allow for single occupancy rooms.
"We're trying to get every patient in a private room," said Stephens Mundy, President and CEO of CVPH Medical Center. "Our goal is to have 97 percent of our rooms private rooms."

The new wing has 22 rooms which are all private. The hospital is licensed to hold about 328 beds. Mundy said the floor will be part of a universal bed concept where the level of service changes to match the needs of patients.
"Patients will receive a variety of treatment. It won't be for a certain demographic of patient," Mundy said.
The rooms are equipped to facilitate the treatment needs of the patients for most of their length of stay.
"This is a phenomenal addition to the medical center," Duprey said.
"This was a relatively old facility and there are all kinds of things that have changed in the last 20 years. Technology, the rooms and the floors were not structured to utilize the advancements in technology so that's a huge increase in availability," Owens said.
"People have gotten bigger over the past 20 or 30 years and so that I think is very important that these rooms were built larger to accommodate people more easily," Owens said.
Being in a private room is also important to people, Owens said.
"I think it facilitates people to get well more quickly, and improves the service provided by nurses," Owens said. "If you are in a double room, that means there are double the interruptions at night. If you're in a room by yourself you're interrupted much less often. I think for a whole lot of reasons this is really a big step forward for patients, staff at the hospital and the community."
(Continued on Next Page)
Prev Next
Vote on this Story by clicking on the Icon