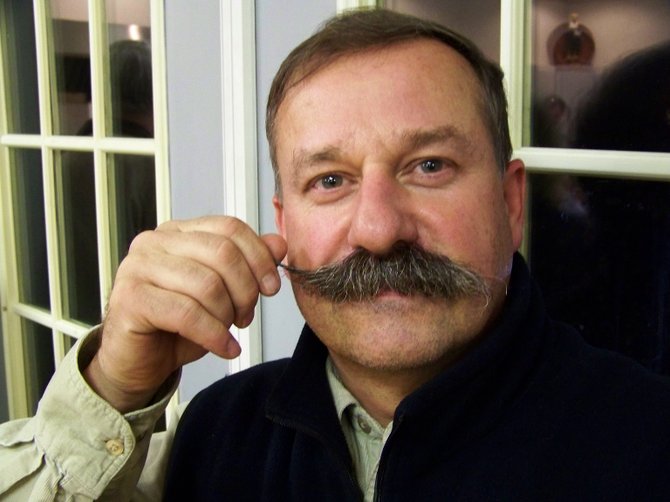 A popular local teacher is likely to be giving up a signature aspect of his appearance in an effort to raise money for charity.
Rex Reynolds III has pledged to shave off his trademark handlebar mustache — a key feature of his face for more than 30 years — if Warrensburg High School sophomores raise at least $500 for Operation Santa Claus. The charity provides toys, clothing and food to local youngsters during the holiday season.
Reynolds, a Social Studies teacher at Warrensburg High School, made the promise to assure that many local children can fully enjoy Christmas — but he's a little squeamish about giving up his mustache for the cause, he said.
"If they meet the goal, it's definitely going to be weird to have my mustache gone," he said, tugging on a corner of it. "I really take it for granted."
Months ago, Reynolds was approached by Kayla Sweet, now a Sophomore at WCS, asking what price he put on his mustache. Reynolds quoted a sum of $500, which he thought at the time was high, he explained. The news got back to Class of 2016 advisor April Fiorentino, who approached Reynolds and said, "Are you serious?" he recalled.
Fiorentino said this week that the students are having fun with this challenge, which will mean the eradication of Reynolds' facial trademark — a mustache that looks like it belongs to an 1800s Western desperado. She added that she is more than confident that the $500 threshold will be reached — so sure that a shaving session has been scheduled for Dec. 9 and a check presentation on Nov. 21 from the class to Florence LaPoint, who operates the charity.
"I have people saying, 'Whatever you are short in donations, call us!'" Fiorentino said with a laugh. "I'm confident Rex will get his mustache sheared off."
(Continued on Next Page)
Prev Next
Vote on this Story by clicking on the Icon