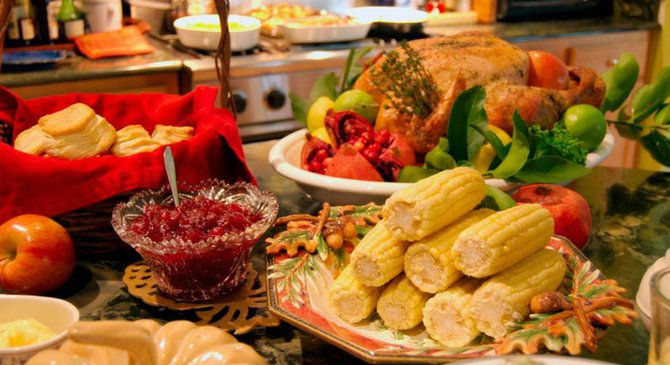 Ticonderoga — Thanksgiving dinner will again be served in Ticonderoga.
The fifth annual "Miracle on Montcalm Street — Adirondack Dinner Table" will be shared Thanksgiving day noon to 2 p.m. at the Ticonderoga fire house.
"Each year we look forward to the first, and maybe only, holiday meal of turkey with gravy, mashed potatoes, heavenly sweets, green bean casserole, cranberry sauce, rolls/butter. Mmmmm," organizer Tricia Stonitsch said. "Add a little egg nog or orange-cranberry apple cider punch, delish."

The entire event is designed to have a family feeling, she said.
"After some conversation and the passing of time, a good hot cup of coffee or tea with a slice of homemade pumpkin or apple pie, including a few other delights — we don't count the calories in those — and it soon becomes nap time," Stonitsch said. "Is that how it goes at your home?
"Well the Adirondack Dinner Table, hosted at the Ticonderoga fire house brings you all that and more, minus the nap time," she said. "This Thanksgiving join us as we form new friendships and check in with the old familiar ones sharing time, that's how you spell love."
The entire community is invited to attend.
Each guest is received and brought to a table. Many of the menu items are prepared by families in their homes and brought to the fire house Thanksgiving morning. Volunteers then make turkey, gravy, smashed potatoes and sweets.

Volunteers are needed to help with the annual dinner.
Stonitsch said volunteers are needed to purchase dinner items, cook, make desserts, do prep work on Wednesday evening, set tables and decorate on Thursday, to make deliveries to those who can't attend and to clean up on Friday.
"To make this all happen we use the adage 'Many hands make light work'," Stonitsch said. "There are opportunities galore for all age groups and abilities to help make this the best day ever for so many folks."
Meals will be delivered to anyone living from Hague to Witherbee who cannot make it to the fire house.
People interested in volunteering, attending the dinner or having a dinner delivered to their home can contact Stonitsch at 585-6369 or Janet at 572-1915.
Vote on this Story by clicking on the Icon