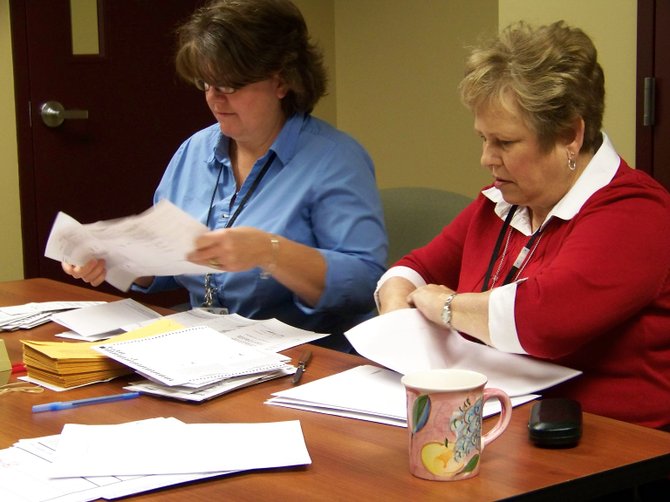 continued — But after being trounced in the Primary, citizens rallied to her support, and the result was a hard-fought campaign, resulting in a remarkable comeback victory.
Democrats were important to her victory as well as those voting on the lines reserved for Conservative and Independence parties.
Town Democratic party Chairman Andy Templeton said that he was pleased with the fact that 170 voters chose Wood on the Democratic ballot line, although there are only 158 registered Democrats in Thurman, compared with 409 or so for the Republicans.
"I'm thrilled," he said, noting this election cycle might help resurrect the local Democratic party, which has been all but dormant in recent decades. "This is probably historic."
The turbulence in politics this year apparently isn't lost on Wood. After the paper ballots were counted, she said that her next objective would be to create unity.
"This has been a very polarizing election, and we'll be working to bring the community back together again," she said.
Wood added that she's open to ideas that local residents have suggested this year, like restoring youth programs and encouraging the development of town-sponsored family activities.
"I've heard a lot of input from citizens about what programs they'd like to see in town — We'll be evaluating the ideas to determine what's feasible and we'll be moving forward from there," she said. "It's a relief to get this election behind us and get back to work."
Wednesday's count also provided a final unofficial tally for two Thurman Town Board seats.
The paper-ballot count tallied the write-in votes for Kathy Templeton, (an Adirondack Journal correspondent) at 105, nowhere near enough to topple either of the two candidates on the ballot, Daniel E. Smith and Michael Eddy, who received 347 and 299 respectively in the adjusted Nov. 13 count.
Attending the session during which the paper ballots were tallied, Kathy Templeton said she was happy with the results. She had launched her write-in effort just several days before the election.
She said that she was primarily pleased that Thurman citizens were taking their civic duty seriously. She said that with 529 voters participating in the Nov. 5 election with only 600+ eligible in town, Thurman residents were making a point that was hard to ignore.
"I was really happy with the local turnout," she said. "It showed New York State that Thurman votes!"
Vote on this Story by clicking on the Icon