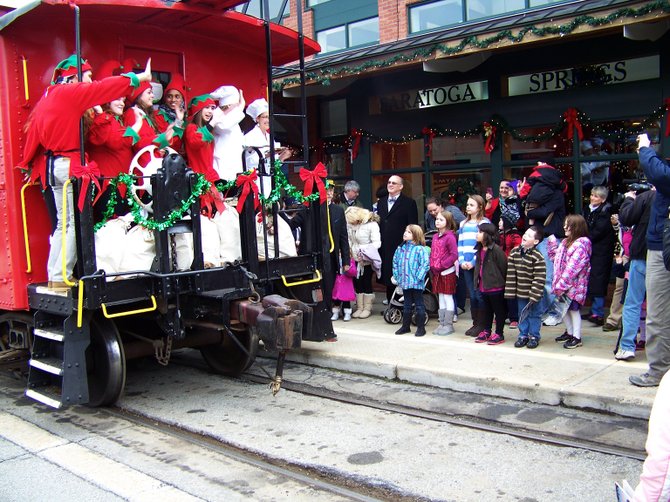 continued — Jacqueline Staples, 17, one of elf character that gathered the holiday letters, sported a broad smile through the Polar Express kickoff event.
"I love this — it's so much fun to see the joy the children are having," Staples said as she boarded the caboose.
A similar sentiment was voiced by one of several special Guest Conductors for the 2014 trips — state Sen. Kathy Marchione (R-Halfmoon).
"This is a thrill of a lifetime," she said of her invitation to be a figurehead for one of the Polar Express trips. Also invited to serve as Guest Conductor are Assemblyman Dan Stec and State Sen. Betty Little.
Monday's event also featured distributing vouchers to U.S. veterans and active military personnel for a free train ride during 2014.
The event served as a roll-out of the railway's Santa letter promotion. The railway has established specific drop-off points for such letters, which are specified online at: ww.sncrr.com
The Polar Express trips begin Nov. 15 and run through Dec. 29. The excursions re-tell the classic children's story of a magical Christmas train, a tale that was turned into a movie in 2004.
The series of 70 or so Polar Express train trips, taking children to "the North Pole" and back, were a first-ever for the Capital Region when introduced in 2011 — and the excitement over the experience hasn't faded since.
During the one-hour excursions, the classic tale comes to life, complete with singing elves, dancing chefs and a visit by Santa. The story is read aloud and the music of the movie plays aloud during the trip, prompting sing-alongs. The excursion features cookies, cocoa and caroling.
Santa boards the train at the North Pole to greet passengers and all children receive the "Silver Bell" made famous by the treasured tale. Children and family members are invited to attend in pajamas.
Vote on this Story by clicking on the Icon