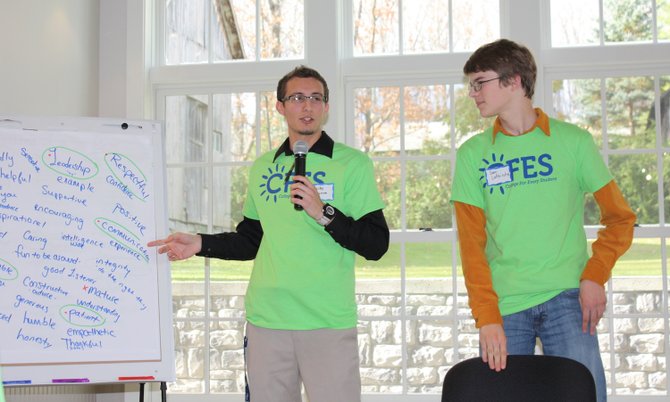 Essex — One hundred students from ten Adirondack schools gathered on Tuesday, Oct. 29, at the College For Every Student (CFES) Center in Essex for professional development in peer mentor training.
"Peer mentoring empowers students," said CFES President and CEO Rick Dalton. "Given the proper tools and resources, they can be positive role models, and help their peers along the college and career path."
Students spent the day with CFES staff, learning leadership skills, engaging in mentoring activities, and making "fast friends."
"To get the students interacting, we began the workshop with an ice breaker," said CFES Vice President of Programs Tara Smith. " The students had to write one fun fact about themselves and then find ten students from other schools and learn a fun fact about each of them."
The students were then broken up into groups and learned the basics of becoming a peer mentor, identifying qualities needed to fill the role.
"Trustworthy, compassionate, approachable, optimistic, and reliable were among the fifty-some qualities that students generated in their group discussions," said CFES Program Director Steve Boyce. "Their level of enthusiasm and eagerness to learn and participate was incredible."
The day concluded with students breaking up into their school teams to plan mentor/mentee session times, topics of conversation, and "getting to know you" activities.
"This was a great opportunity," said a sophomore from Crown Point. "I wish my whole school could have shared this experience, but my team is looking forward to going back to school and recreating the day for our fellow mentors!"
"CFES uses peer mentors because it provides such successful outcomes," reported Smith. "We've seen huge gains in both mentors and mentees college readiness."
Vote on this Story by clicking on the Icon