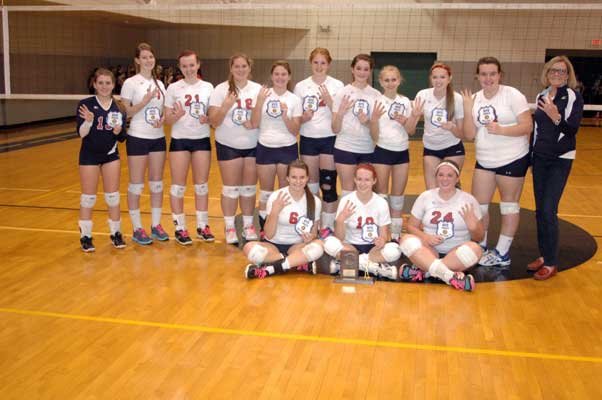 Clintonville — It's a familiar game for the members of the AuSable Valley varsity girls volleyball team.
What they are hoping will not be familiar, though, is the outcome.
After three years of watching their season end at the hands of the Voorheesville Lady Blackbirds (20-1) in state regional play, the Lady Patriots (18-1) will have to make the fourth time a charm in order to achieve their goal of advancing to the NYSPHSAA state championships at the Glens Falls Civic Center next weekend.
The game will begin at 2 p.m. at Gloversville High School, hosted by Section II.
"We need to play our game," head coach Sandra Hoey said after the Patriots won the Section VII/Class C title Nov. 2. "This is a very special group that comes around only once every 30 years. Their work effort is second to none and the three captains (Mirissa O'Neill, Miranda Sheffer and Noelle Miller) lead the team with ability and leadership on and off the court."
The Patriots season has ended in 3-0 defeats against the Blackbirds in each of the last three seasons. The team is hoping that the experienced gained by the core members of the team will be key in reversing the trend, as O'Neill, Sheffer and Miller completed a varsity career sweep as sectional champions this season.
AuSable Valley Patriots
Coach: Sandra Hoey
Record: 18-1
3 Alexis Joy, Jr.
6 Noelle Miller, Sr., C
8 Lindsay Brown, Jr.
10 Miranda Sheffer, Sr., C
12 Shelby Bourgeois, Jr.
15 Alexandra Lincoln, Jr.
17 Kate Gallagher, Sr.
18 Miranda O'Neill, Sr.
20 Jocelyn Racette, Jr.
21 Lizzie Maloney, Jr.
22 Kylee Brunnell, Jr.
24 Mirissa O'Neill, Sr., C
44 Lindsay Christian, Sr.
Voorheesville Blackbirds
Coach: Ashley Swint
Record: 20-1
3 Caroline Bablin, Sr., C
4 Meaghan O'Keefe, Jr.
6 Elizabeth Bablin, So.
7 Nicole Brower, Sr.
8 Jordan Champion, Jr.
10 Erin Gannon, Sr.
11 Eileen Thompson, Jr.
21 Libby Bjork, Sr., C
23 Tori Hargrave, Sr.
24 Kimmy McQuade, Jr.
25 Amanda Bache, So.
(Continued on Next Page)
Prev Next
Vote on this Story by clicking on the Icon