Daniel Bowen Hoag, a brother of David Hoag of Warrensburgh, who went west 36 years ago and has of late years made his home at Broadgate, Iowa, has sold his farm and all other property at that place and returned to Warrensburgh to spend his declining years in his native town. He arrived Nov. 5, 1913 and his son, Francis Hoag accompanied him. He will also remain here.
Former Stony Creek girl dies
Mrs. Catherine Murray Evans, 77, died Oct. 20, 1913 in Gloversville after a lingering illness. She was born in Stony Creek and lived there continuously until 16 years ago when she went to Gloversville to live with her daughter, Mrs. Alvah Fosmire, where she died. She leaves two sons, Guy and Fred Evans. Her brother George Murray lives in Stony Creek.
Lively entertainment
Joe Miller, manager of the Empire Theatre, Glens Falls, is negotiating for the appearance there in the near future of Evelyn Nesbit Thaw and her all-star vaudeville company. The Empire Theatre is currently presenting Hi Henry's Minstrel's with 25 famous minstrel stars culled from the cream of the profession. Matinee seats are 25 and 35 cents. There will be a free street parade.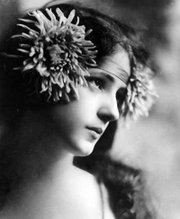 (Note (Evelyn Nesbit, considered America's first "pin-up girl," posed for some of the leading artists of the era and she was the nation's leading magazine model before she turned to a career on the stage. Nesbit achieved additional notoriety when her multi-millionaire husband Harry Kendall Thaw shot and murdered New York socialite Stanford White out of jealousy. Thaw owned Villa Marie Antoinette in Bolton. The murder was the scandal of the era. By 1913, she was appearing in vaudeville. Fifty years later the movie "The Girl in the Red Velvet Swing," told a fictionalized account of her story.
The Empire Theatre on South St. opened in 1899 and presented for public entertainment some of the greatest names of the day. It was a big occasion for Warrensburgh people to travel down to the city on the trolley for a grand evening's entertainment.)
Vote on this Story by clicking on the Icon