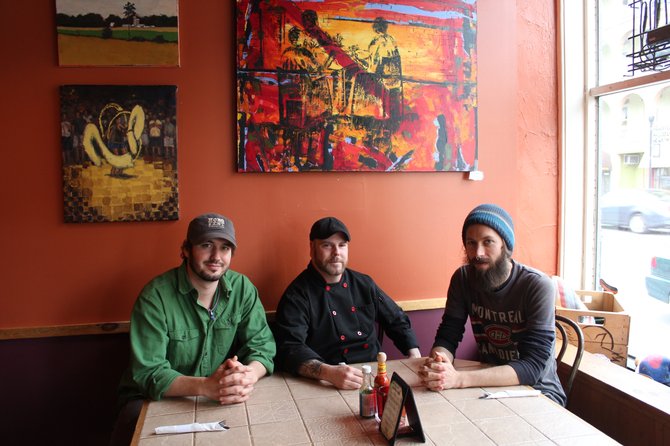 At The Pepper in downtown Plattsburgh the culinary duties are handled by committee, with three chefs sharing the load.
With a combination of experience from Le Cordon Bleu to years spent in kitchens around the North Country, chefs Jamie Armstrong, Brian Gonyea and Bryce Brushnefski compliment each other's abilities to produce a varied cuisine that has garnered a dedicated and growing following.
"We all kind of work together to make it run the way it needs to," said Armstrong. "We bounce ideas off each other all the time. It works great."
All three chefs are from the North Country. Armstrong and Brushnefski honed their culinary skills by working in restaurants since their teens. Gonyea left the area when he joined the military, and after getting out attended Le Cordon Blue in Dallas. He then worked in Texas for several years under some of the most notable South-West cuisine chefs in that area.
Armstrong and Brushnefski have been at The Pepper for three and six years respectively, but when Gonyea crossed the street from a Sous Chef position at Irises a year ago, the level of the cooking jumped noticeably according to Armstrong.
"I'm extremely creative," said Gonyea. "My grandfather was a chef and my mother was an artist, so I look at food in an artistic way, and I think of different styles and what I can do to twist it around."
The three chefs have plenty of opportunity to get creative, since The Pepper features three entrees and two appetizers every weekend that are not normally on the menu.
Along with their personality and experiences, Armstrong credits the fresh local ingredients they use with much of their success.
"We want to inform the clientele. For instance the chicken we use in house is all natural, hormone free, antibiotic free. That's just the chicken we use every day, just the random chicken breast and the chicken we roast for fajitas and stuff," said Armstrong.
(Continued on Next Page)
Prev Next
Vote on this Story by clicking on the Icon