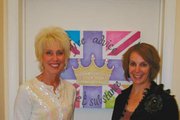 Plattsburgh — Dear style & substance:
My son recently finished up his soccer season as a senior, and is almost inconsolable – his team lost in the final round and of course, this is not the glorious end of season he anticipated. I want to keep up our relationship, but am at a loss with how to manage this one. I guess I fear that this is just the start of communication differences and don't want to miss the opportunity to connect with him. I feel like I am becoming an–Inconsolable Mom!
We find that the end of a sports season, particularly for a senior, is both sad and a little frightening. The sadness may come from a place of "never again"…will I ever again play competitive soccer, will I play with this great team, will I ever have a coach like this. As in most of life, the answer to a dilemma usually comes in small moments of clarity:
"The opposite of the happy ending is not actually the sad ending--the sad ending is sometimes the happy ending. The opposite of the happy ending is actually the unsatisfying ending."
­— Orson Scott Card
His sadness may come from the unsatisfying ending – your son has worked hard for years and arriving at this ending was not what he, or his teammates, had in mind. Disappointment after a hard won fight is a tough nut to crack. Even if your son is in the process of moving forward, feeling unsatisfied leaves a sense of unfinished business.
Focusing on the sadness, the most present, is what should be addressed first. We remember many rides home in the car at the end of the season, which very often is also a loss of the last game, race or match. We think the best approach is meeting your son's emotions where he is. If he is silent, be silent, if he is talking, talk back. Hug him, tell him it was a great season and understand that he may need to just be alone with his sadness. Remember that your emotions and feelings of loss are less important than his feelings.
(Continued on Next Page)
Prev Next
Vote on this Story by clicking on the Icon