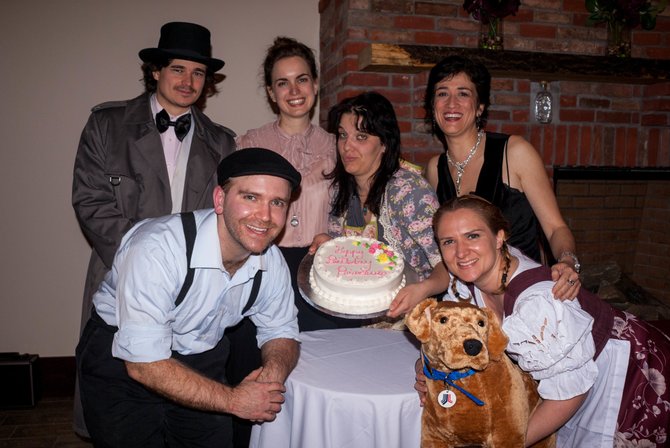 continued — The company will bring an Indiana Jones type performance to the dinner guests.
"We're going to set the scene for people to come in," Rob said. "We want people to feel like they are here for the unveiling of the Golden Asp, an Egyptian cobra statue which was brought back by an adventurer, Christina Armstrong and her side kick Hugh Jones thanks to the funding by the wealthy benefactor and rich socialite Fran Ascot."
Unlike a framed stage where the audience has no choice but to follow along a performance, Rob said dinner theater requires the audience to remain on their toes.
"Part of what we do is people know they're going to a dinner theater but it's more fun to play into the reality of our show," Rob said. "Our actors will mingle with them and talk with the audience before the show we want everyone to pay attention and interact with the performance."
Tim said program has been a popular and unique fundraiser for local groups.
"We wanted to make this more of an event and something different for people to experience here by bringing our community a true New York City theater performance," Tim said.
Following the dinner, the guests are invited to dance the night away with IncaHoots performing from 8:30 to 11 p.m.
"We want people to stay and have a good time while raising money for a cause that is really important for so many people," Tim said.
Guests are also invited to participate in a 50/50 raffle.
"Pay attention you never know when a clue is going to be dropped," Rob said.
All proceeds go to the Plattsburgh Relay for Life Survivor Committee. Tickets $50 each or $90 per Couple, are available online at http://woodmen.ticketbud.com/nycurse. For more information call 561-7213.
Vote on this Story by clicking on the Icon