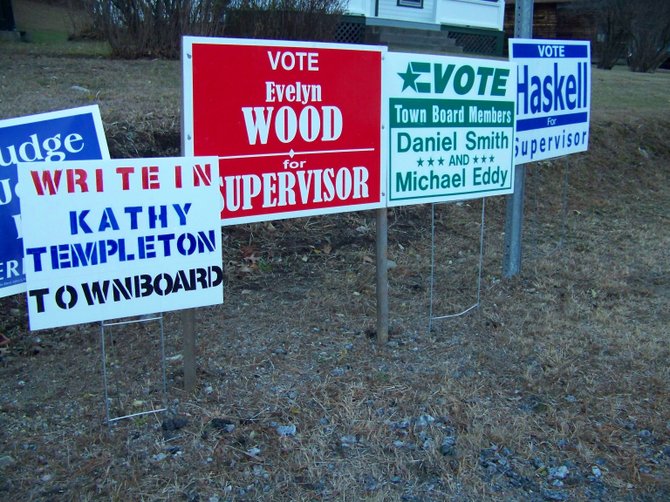 continued — Wood has contended that Haskell is unable to hold office because of that conviction, and she and others say they are ready to challenge his ability to do so, if necessary. Legal experts are divided on the issue.
In neighboring Warrensburg, Town Supervisor Kevin Geraghty (Rep., Con., Indpc.) — who serves as the county's Chairman of the Board of Supervisors — is being challenged by former town supervisor Maynard Baker (Ind.), who gave Geraghty a formidable opposition for the post in 2009.
Geraghty is running on his record of effective leadership in both the town and county. He has been either county Budget Officer or Chairman of the Board of Supervisors in recent years, an era when he and others slashed expenses and trimmed payroll.
Baker is campaigning on issues of property rights and minimal government interference.
Baker has pledged to establish a hydropower station on the Schroon River, which he said would provide revenue for the town. Geraghty has said that the concept has been explored in the past, and is at this point impractical and could indebt the taxpayers. Baker has also pledged to keep the landfill open seven days a week, which Geraghty said would add to the town's payroll expenses.
Baker has campaigned for lower taxes, but Geraghty has said in response that despite the spiraling costs of retirement and health care for town employees, he and the town board have crafted annual town budgets since 2006 that increased merely $10,000 per year average. He said this week that the town tax rate is now less than it was when Baker was in office in 1995.
In Bolton, two-term incumbent Town Supervisor Ron Conover (Rep., Indpc.), retired from the post of Director of Planning and Community Development for Rome, NY, faces a challenge by Kam Hoopes (Ind.), a former local Zoning Board of Appeals member and retired Finch-Pruyne executive. For the post of Bolton Highway Superintendent, three candidates are seeking to follow Tim Coon, who's held the post for years but is now slated to retire. William A. Sherman (Dem.), will be facing off against Matthew R. Coon (Rep.) — Tim's brother — and Anton F. Cooper (Cons.).
Vote on this Story by clicking on the Icon