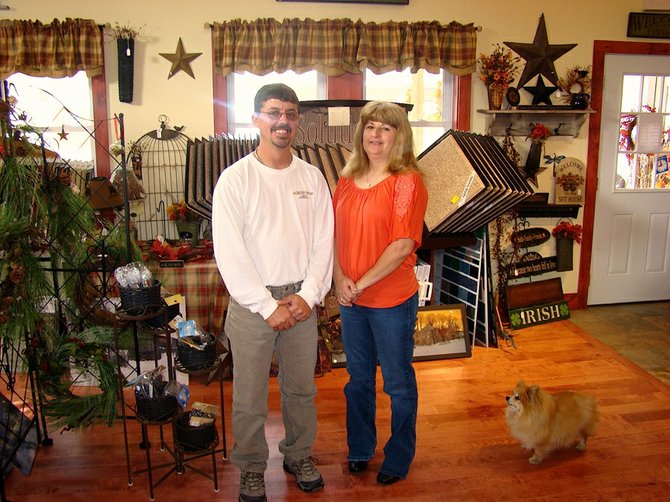 continued — Dave can be reached via his hard line at (518) 648-5717; his cell (518) 524-7213 and by e-mail: daveamedenfloorcare@gmail.com. The flooring showroom is open from Monday through Saturday, 9:00 AM to 5:00 PM.
Kim's Country Corner
Gifts, primitives and home décor are the focus of this new resource for warming up a home. Kim Ameden's business shares the showroom with Dave's floor care business, making the opportunity to get decorative ideas and purchase items that enhance the home along with the flooring. Currently, the inventory focuses on primitives such as stands, shelves, pictures, florals, candles and plates. The items are displayed around the showroom offering design ideas to those visiting. There are plans for expansion into other offerings such as local handcrafted items as the business grows, but physical room is the current limiting factor. As next spring unfolds there may be opportunity and interest in expanding the physical size of the business into other areas of the building. Kim makes a point of the fact that she will definitely be offering an additional service of gift-wrapping starting with this holiday season and continuing year-round.
"The Moose Festival was great for business", remarks Kim. "Local places to stay sent customers down to the shop and local that have camp in the area came in to shop."

There are plans to coordinate sales with the various events throughout the year. The next event is the Country Christmas Tour and Kim is in the planning phase for her business specials connected with this event.
Currently, Kim and her mother-in-law, Marian are the two employees for Kim's Country Corner. Getting the business off the ground was really a bootstrap effort. The owner of the building provided the materials, but the family, with the help of friends, did all the construction work and installation making the showroom and shop space possible in a timely and economical fashion. Both Kim and Dave want to recognize all those family members and friends who made the showroom possible through their time and hard work.
Kim's Country Corner can be reached by telephone at 648-5717 and the shop is open from Monday through Saturday, 9:00 AM to 5:00 PM year-round.
As with all the businesses in town, it is vital that the local community come out and support these entrepreneurs who are contributing to the enrichment of the Town of Indian Lake and for the convenience of its citizens at the risk of much hard work and financial investments.
Vote on this Story by clicking on the Icon