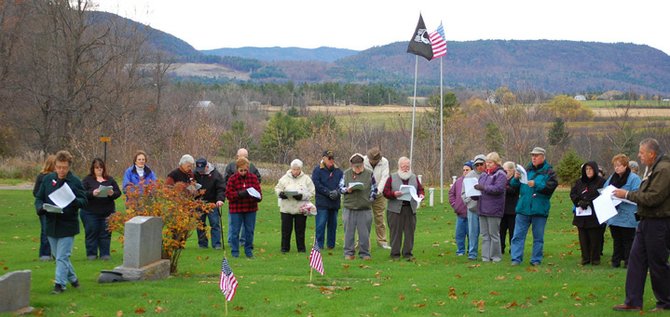 Ticonderoga — Veterans will be honored during Ticonderoga's seventh annual "memory walk."
"On Hallowed Ground, A Veterans Memory Walk at Valley View Cemetery," will be held Sunday, Nov. 10, at 1 p.m. in the west Pine Section of Valley View Cemetery.

The event is sponsored by the Ticonderoga Historical Society, Ticonderoga Town Historian, Ticonderoga Cemetery Board and Ticonderoga, the First 250 Years Committee.

"Please join us as we present a memory walk especially prepared to honor the men and women who have served to protect our freedom," said William Dolback, Ticonderoga Historical Society president. "We will honor each selected veteran with a reading about their military history and their lives at each grave site.
"We invite everyone, especially veteran families, those of active military personnel, and the veteran families who have lost loved ones, to join with us on this special day as we assemble at Valley View Cemetery to pay tribute to soldiers who served our country during the last two centuries," he said.
Early settlers of the Trout Brook Valley interned their families at Valley View Cemetery, Dolback said.

"Originally known as the Old Burying Ground, it was first established on the east side of what is now known as the Hague Road, and through the many years it has grown to rest on both sides of the Hague Road," he said. "This large, very old cemetery holds many of our area veterans from the Revolutionary War to our veteran heroes of today."
The event will conclude with light refreshments served at the Hancock House in Ticonderoga after the program.

For more information contact Robin Trudeau of the Ticonderoga Historical Society, 6 Moses Circle, Ticonderoga, or phone 585-7868 or email tihistory@bridgepoint1.net.
Vote on this Story by clicking on the Icon