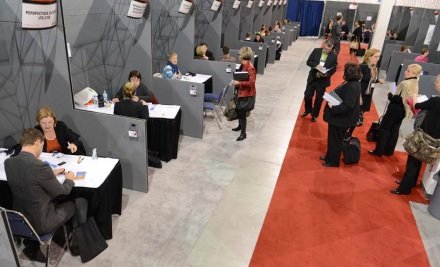 QUEENSBURY — Not only Warren County Tourism Office officials, but Lake George Regional Chamber of Commerce personnel said this week they are ramping up their efforts to draw Canadian visitors to Lake George and Warren County.
Michael Consuelo, Executive Director of the Chamber, returned last week from the three-day International Travel & Tourism Show in Montreal where he spent eight hours per day talking up the Lake George area to thousands of people passing by the Chamber's booth, located in the U.S. Pavilion at the show. He was accompanied by Jephson Hilary, president of the Chamber's board of directors.
"It was really gratifying to hear from so many of the people that they already knew about Lake George," Consuelo said. "The show was an effective venue to promote Lake George and tell people there are so many things for visitors to do here year-round."
Consuelo said that about 25,000 people passed by the Lake George Chamber's booth, which features brochures, leaflets, and a continuously-playing video of the region's amenities.
"It's natural that Canadians come to our area and partake of the scenic beauty and the shopping," Consuelo said, noting that many of the Canadian tourists headed for New York City stop off in Lake George. "We need to be more visible, and we need to be promoting more in Montreal."
In the 1950s through the 1980s, Canadian tourism was considered a key element to the success of Lake George businesses, and many accommodations went out of their way to attract them, including giving their properties Canadian names. By the 1980s, Canadian tourism constituted up to one-quarter of tourism in Lake George, and the Warren County Tourism Department had a representative stationed year-round in Montreal promoting the village.
Besides Consuelo, Tanya Brand of Warren County Tourism Office also was in Canada last week to promote the region, meeting with tour operators in the tour convention Bienvenue Quebec held in Saguenay, Quebec.
(Continued on Next Page)
Prev Next
Vote on this Story by clicking on the Icon