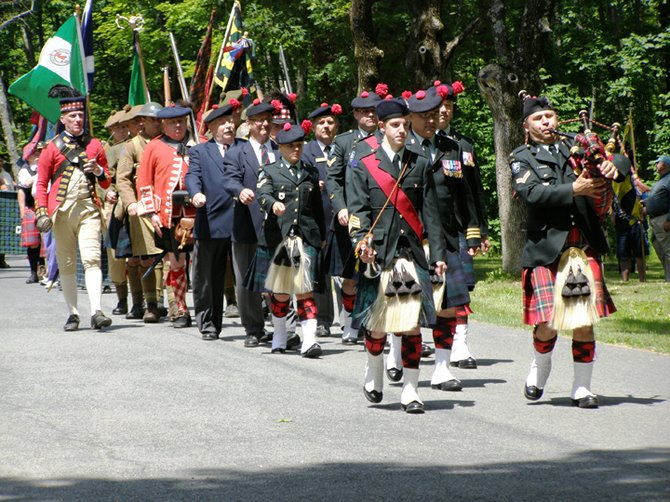 Ticonderoga — Scotland's role at Fort Ticonderoga and Scottish heritage will be on display during the sixth annual Scots Day.
The event will be held at Fort Ti Saturday, June 15, 9:30 a.m. to 5 p.m.
"The commemoration of Scottish heritage and their significant contributions to 18th-century North American history runs throughout the day," said Beth Hill, Fort Ti president and CEO. "Tour the Scottish clan tents and vendors to discover more about your own connection to Scottish culture, and explore the stories of centuries of Scottish soldiers in the British Army through a military timeline offered throughout the day. Experience all of this within the beautiful stone walls and vistas of Fort Ticonderoga."
Highlighting the Scots Day will be a memorial service honoring the 42nd Highland Regiment, also known as the Black Watch. The ceremony will take place at the Scottish Cairn on the Carillon Battlefield. The procession to the Cairn will begin at 11 a.m. at the Log House Welcome Center.
"The memorial ceremony will take place at 11:30 a.m. and will remember the incredible bravery and discipline of the Black Watch against insurmountable odds at the 1758 Battle of Carillon," Hill said. "A special Carillon Battlefield tour will be presented at 12 p.m., following the memorial ceremony."
The 42nd Highland Regiment played a crucial role at Ticonderoga during the Battle of Carillon on July 8, 1758. The regiment suffered more than 50 percent casualties during the failed British assault on the French lines at Ticonderoga during the French & Indian War.
Ticonderoga has continued to be an important part of the regiment's history. During its involvement in the Iraq War, the Black Watch Regiment's base near Basra was called "Ticonderoga."
There will be living history programs presented throughout the day by members of a Black Watch re-enactor unit from Montreal.
(Continued on Next Page)
Prev Next
Vote on this Story by clicking on the Icon