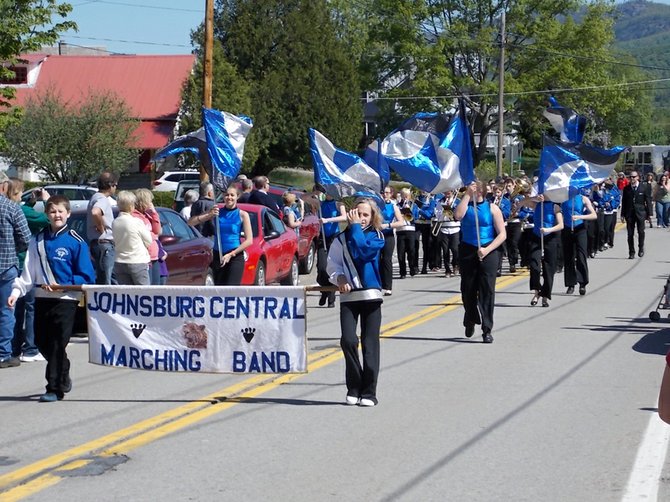 North Creek — During the Memorial Day ceremony here Monday, May 27, American Legion Post 629 Commander Terry Waterston and Pastor Terry Mosholder, who heads the Schroon Lake Community Church and will soon lead the North Creek United Methodist Church, spoke of the importance of remembering both the sacrifices of veterans and the needs of those who are returning home.
Waterston, who joined the Marine Corps in 1954, opened by noting, "Well, it's not raining or snowing and even more importantly there are no blackflies."
She spoke about how it is our duty to keep the "memory in Memorial Day." She said that while we are enjoying the parades and other celebrations, we should remember the veterans whose sacrifices.
"As we cherish the men and women who came before, we are reminded to do everything within our power to support our active and retired soldiers, sailors, air men, Marines, and Coast Guard men," she added.
"Good Morning, North Creek!" Mosholder exclaimed as he took the podium. A Vietnam combat veteran who served in the Marine Corps, he graduated from Pittsburgh University in 1987 and Wesley Theological Seminary in 1991. After being ordained in the Presbyterian Church in 1991, he has served in churches in New York, Pennsylvania and West Virginia. He will be sharing a two-point charge with the North Creek United Methodist Church beginning this July.
"Scripture tells us there is no greater love than laying down one's own life to save someone else's," he said.
Many years before, Mosholder had struggled with feelings of anger and doubt when he saw the name of a close friend on The Wall memorial in Washington, D.C.
"Was it worth it? Does one life, one sacrifice make a difference? I asked myself these questions," he said. "It was only when I took the focus off of his death and put it on his gift, his sacrifice, that I realized that my friend wasn't just one small wave in the ocean, he was a part of the whole ocean, and that every wave makes a difference, just like each life — each sacrifice — makes a difference," Mosholder said.
(Continued on Next Page)
Prev Next
Vote on this Story by clicking on the Icon