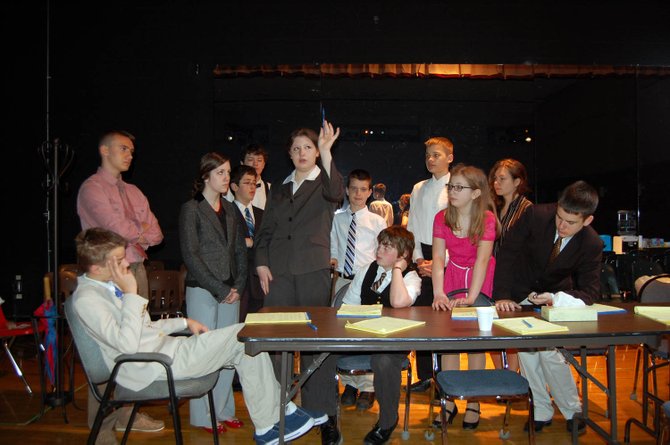 continued — Connor Sheehan, a ninth grade student actor who plays Juror Number 3, said to prepare for the part he and other student actors must contain themselves to not overwhelm the audience.
"We get really into the scenes and sometimes I've gotten up quick and spilled something where the audience is going to be," said Sheehan. "Some of the fights we need to control ourselves."
Taressa Lacey, a ninth grade student actor who plays Juror number 4 said getting into character was a great experience.
"My character can really relate to the case because she came from a slum and hasn't seen her child for three years," said Lacey. "My character says at one point he could feel the knife in his chest like the father of the boy in trial."
Through the deliberations the characters show more and more about themselves and there differences that is learned about the man on trial.
"People are going to see a lot of conflict between all of the jurors," said Laura Klein who plays Juror Number 8. "There is all kinds of anger, logic and emotions in this play."
The jurors' final verdict and how they reach it—in tense scenes that will electrify those in attendance and keep them on the edge of their seats!

Hopkins said in an e-mail that "through the support and encouragement from the Board of Education and Superintendent, Mr. Broadwell, the Club is finally able to bring this sensational and beloved play to the stage. The students have really taken on this challenge. Each student is on stage the entire play and it has been a Master Class in the fundamentals of acting. Being engaged, listening, reacting, and bringing their emotions to a boiling point has been integral aspects of the teaching process. I am so impressed with the level of growth and dedication these young actors have taken in their preparation of this classic drama.
Performances will be performed on May 30 and 31 at 7 p.m. and June 1 at 2 p.m. The production will be held on the Willsboro stage in the round. Admission is $5 and seating is limited to 90.

Vote on this Story by clicking on the Icon