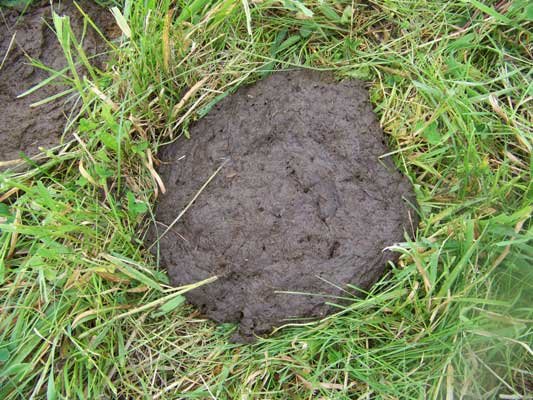 Plants, whether vegetables and fruits for human use, or food plots for wildlife all require nutrients to live. During a plant's growth, the roots absorb nutrients and the plant grows. The growth requires lots of nutrients that come from the soil. When they are harvested, there is a loss of nutrients to the soil. You are depleting the bank account so to speak. You need to feed the soil once again to complete the cycle. The earth giveth and the earth taketh away!
This means manure is actually a food for your soil, not a waste product. Those cow pies are really culinary delights for earthworms and soil microbes that are a great benefit to your soil structure, organic matter content and moisture holding capacity. With proper soil and manure management, your soil health will improve. Healthy soils, healthy food, healthy cows, healthy people and a healthy farm economy!
The next time you are walking your pasture kicking cow pies, remember it's not just a biological waste product; it's a three course meal along with a dessert for your soil, delivered fresh from the factory.
Those bovines are part of the recycling process. They get feed from the plants that get their food from the soil. So order a slice of that cow pie for your plants, worms and microbes to eat, and don't let it wash away.
I read an old quote somewhere: "A wise man doesn't kick a fresh cow pie." I think that still holds true today!
It's Memorial Day week, and I want to say "welcome home" to all the Nam vets that never got the welcome home they deserved.
Rich Redman is a retired District Conservationist for the USDA Natural Resources Conservation Service and an avid outdoorsman. His column will appear regularly. He may be reached at rangeric@nycap.rr.com.
Vote on this Story by clicking on the Icon