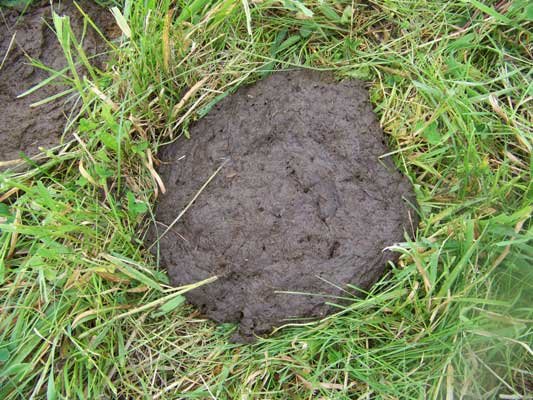 Fresh liquid manure that is applied to fields should be plowed into the soil as soon as possible. This will help prevent nutrient loss to the atmosphere and from runoff if applied during a rain. The downfall of liquid manure is that along with the loss of nitrogen to the air when spread, there is manure like perfume that fills your senses. To some of us, it is the smell of farmers making a living. To others it is a vile smell and they say, "farmers should not be farming here." Those folks think their food just magically appears at the store all along thinking: who needs farmers anyway? Most of us know better.
Composting manure allows oxygen into the mixture. Aerobic microbe activity reduces the volume of manure due to the breakdown of the organic portion of the manure and the bedding. There is also the loss of moisture through evaporation or leaching during the compost process. Composting manure concentrates the organics and nutrients. Compost should also be incorporated into the soil so you conserve nutrients. Compost is stable, and when applied to the land releases nutrients over time. Composted manure is also food for earthworms and other soil critters.
Earthworms are a sign of a healthy soil that has the right amount of oxygen, organic matter, nutrients and moisture. Earthworms improve drainage and the oxygen levels in soil by their burrowing. An added benefit is that the worm casts are rich in nutrients.
Did you know that at one time there were wildlife biologists stating that manure should be spread at the upper edges of wetlands on moist soil so it would promote earthworm habitat. Yes, along managed wetlands so there would be a large population of worms for woodcock to eat. Food for the woodcock! I think that is an idea worth pondering. Too many nutrients are a problem, but so is the lack of nutrients. Wildlife management is about habitat, and food is vital to habitat creation.
Rich Redman is a retired District Conservationist for the USDA Natural Resources Conservation Service and an avid outdoorsman. His column will appear regularly. He may be reached at rangeric@nycap.rr.com.
Vote on this Story by clicking on the Icon
More like this story